US pressing hunt for Osama Bin Laden
(Agencies)
Updated: 2004-02-26 10:14
The U.S. military said Wednesday that a "renewed sense of urgency" is firing the search for Osama bin Laden, even as it dismissed reports that the fugitive al-Qaeda leader had been located near the Afghan-Pakistan border.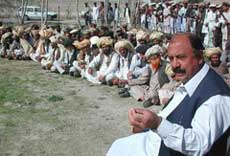 Rehmatullah Wazir, right, an official of Pakistan government addresses tribal elders about recent operation against al-Qaeda fugitives, in Wana, near Pakistan-Afghanistan border Wednesday, Feb. 25, 2004. [AP]

The new impetus comes amid plans to provide security to the lawless regions outside the capital, Kabul, before national elections planned for June. President Hamid Karzai also suggested an unprecedented move that could promote peace, saying he would consider talks with a former Taliban leader to promote reconciliation with less extreme elements of the former regime.

"The sands in their hour glass are running out," Lt. Col. Matthew Beevers, a spokesman for the U.S. military in Afghanistan, said of bin Laden and other fugitives. "We remain committed and reaffirm our effort to track these guys down and get 'em."

Still, Beevers played down speculation that American forces had closed in on bin Laden, saying that if coalition forces knew where he was, "we'd already have him."

The U.S. military is planning a new push to improve security across the troubled border regions and is rolling out a plan that involves delivering millions in badly needed reconstruction aid to remote areas where a bloody Taliban insurgency is strongest, a move the military says should yield better intelligence.

"It's a combination of all those that gives us a renewed sense of urgency" in the hunt for top fugitives, Beevers told a news conference in Kabul. "Nothing is for certain but we remain unwavering in our commitment."

Beevers made no mention of audiotapes purportedly of bin Laden's top lieutenant, Ayman al-Zawahri, that were broadcast Tuesday on Arabic TV stations, taunting U.S. President Bush and threatening more attacks on the United States.

CIA Director George Tenet said Tuesday that the al-Qaeda leadership is seriously damaged, even though the group remains committed to attacking the United States.

"We are creating large and growing gaps in the al-Qaeda hierarchy," Tenet told the Senate Intelligence Committee. "And, unquestionably, bringing these key operators to ground disrupted plots that would otherwise have killed Americans."

Tenet added that "al-Qaeda central continues to lose operational safe havens, and bin Laden has gone deep underground. We are hunting him in some of the most unfriendly regions on Earth. We follow every lead."

The U.S. military has said it is confident that before the year is out it will catch bin Laden — accused of masterminding the Sept. 11, 2001 attacks — and Taliban leader Mullah Omar.

That optimism has sparked intense speculation about the fugitives' whereabouts — and a slew of reports that they have been tracked down in the rugged border region. ABC News reported Wednesday that bin Laden had slipped back into Afghanistan from Pakistan.

Beevers declined to comment on that report. He also said the U.S.-led coalition had honed its tactics since invading Afghanistan two years ago to smash al-Qaeda's bases and oust the Taliban for hosting them.

Beevers praised the Pakistani military for a sweep through the border region that netted 25 al-Qaeda and Taliban suspects. Pakistani security forces searched an area near the town of Wana, 190 miles west of Pakistan's capital, Islamabad, on Tuesday.

Authorities interrogated the suspects through the night, trying to determine who they are — and whether they had any links to bin Laden. Among those detained were three Arab women and other foreigners, officials said.

Pakistan has been a key ally of the United States in its war on terror, capturing more than 550 suspected al-Qaeda and Taliban members, including key figures in bin Laden's terror network.

Karzai, meanwhile, cautioned that thousands of supporters of the Taliban regime ousted by a U.S.-led invasion have done no wrong. The U.S. military has also recently appealed to former Taliban to join the reconstruction effort.

"Those who committed crimes, in my opinion, do not go beyond 100 people," Karzai told Pakistani television. "Those are the ones we cannot accept."

Karzai said former Taliban Foreign Minister Wakil Ahmed Muttawakil had written him a "nice letter," and that he was considering talks in an effort to reintegrate one-time Taliban supporters into society.

"He has asked to meet me, and I am considering that proposal," Karzai said.

Such reconciliation efforts could improve the security necessary for the critical vote to go forward.

Karzai said that if U.N. plans to register millions of voters by May succeed, "we will definitely go ahead and have elections in July. I don't think we can have it in June."
Today's Top News
Top World News

Greenspan: Free floatation of the yuan could be risky




Political advisers pledge to better people's life




Jam-proof satellite going up next year




More and more women saying no to abusers




Bush, Kerry open battle for White House




NASA: Mars had enough water for life