Does Lee Ao's daughter complain too much?
(Beijing Today)
Updated: 2004-02-25 16:11
Like father, like son. Doctor Lee Wen, daughter to Li Ao, never chooses to keep silent at any annoyances. She is crowned the "complaining queen," simply because she complains, complains and complains.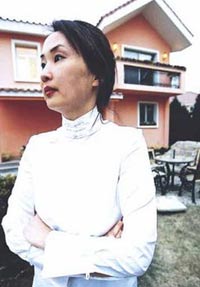 Lee Wen standing in front of her residence villa in Beijing. [file photo]

Lee Wen has been living in a fairly swanky villa community in Beijing but has found herself surrounded by continual barking of dogs, loud music, roosters crowing and all sorts of other aggravations. Her continual complaints have made her somewhat unpopular in the community and now they want her to move out.

Lee Wen signed a three-year contract with Beijing Mengke Properties Company Ltd and moved into the Gahood Villa in August last year. She has been upset by her neighbors ever since. The barking dogs make it hard for her to work and the roosters start crowing at 5 am every morning, making it hard for her to fall asleep again. She says the vegetables her neighbors grow have also attracted a lot of mosquitoes. She thought her right for peace was being violated so she talked with her neighbors over the matters but all in vain. The property management company also proved to be a failure attmpt.

Unexpectedly, on February 10, the property management asked her to leave the community within one week, threatening to cut off the electricity and water.

It turns out the property management staff were under pressure from five villa owners, who were angry that Lee Wen was always complaining and had brought a bad atmosphere to the neighborhood. The five owners asked the company to drive Lee Wen out, saying they would refuse to pay water and electricity bills otherwise.

So Lee Wen resorts to law and sues the company for breaching the contract. Does she have a right for peace and is she being hounded out of her own home, or should she just put up with the noise?

Lee Wen was born in New York in 1964, daughter of the famous Taiwan writer Lee Ao. Her new book "Like Father, Like Daughter" narrates her extraordinary life. In it she lists many of the bad habits she's found in Chinese people.

Opinions follow:

Lee Wen

I am sure most of us, expats who live in Beijing, especially in the "villa community", have all experienced frustrations regarding the lack of professional service from the property manageme and problems in our living place.

Who likes to hear roosters crowing at 5 am, loud music, dogs barking 24 hours each, and to see neighbors hanging underwear out cars speeding in a residential area?

I am an American born Chinese and I know all about the so called national traits" of my people. Many well known scholars, Lu Xun, Ba Yang and my father Lee Ao, have criticized the immoral and evil characteristics of the people in China for many years. All these problems are still deeply-rooted in the capital of China where moral issues attention at large.

Recently I was served with an eviction notice from Gahood Villa. This mess all started with my new book "Like Father, Like Daughter,"which revealed some of the dirty secrets of living in upscale properties in Beijing and people's uncivilized behaviors. I have found a lawyer and plan to sue them for breach of contract and libel.

I hope the expat community or even the local Chinese citizens can stand up and fight for our rights. This is not an issue of differences between American and Chinese culture. If our lives are disturbed, our rights as consumers are violated. We must support each other.

Lawrence Sterne once said: "Respect for ourselves guides our morals, respect for others guides our manners."

Chen Yuanyu, manager of Beijing Mengke Properties Company, Ltd.

Chen said in an interview with Beijing Youth Daily on February 12 that the reason they asked Lee Wen to leave is that she had had a bad influence on her neighbors and was too concerned about her own rights and interests. He said the company didn't really want to force her out but just let her know her own problem. "But if Lee Wen is willing to move, we would pay the penalty for breah of contract and other related expenses.

Jin Keke, doctor of Civil Law, Chinese Academy of Social Sciences

According to the Civil Law, the right to peace is one part of privacy. So defending this right is supported by the law. But there isn't a detailed explanation on what the right to peace is, so in the law court a judge shoul make a judgment according to the normal standard. And the standard comes from our daily life. So deciding whether her standards are the same as other Chinese people is very important. I guess the problem just comes from the conflict between western and Chinese cultures. But one thing is for sure, terminating contract on the part of one partner is not legal.

I guess there must be something wrong with Lee Wen. Does she have to be that picky? It's quite common for your neighbors to keep pets. And we can't prevent these animals from making noise. But actually, I think animals are rarely so noisy that you can't fall asleep or work. We should learn endurance. In Japan, there are a lot of similar cases, but you don't see people quarrelling over it because they are more tolerant.

Wu Nan, bartender, Cool Touch Bar

"I think the neighbors have their own fault as well. But perhaps there are some other ways to solve the problem instead of making the whole thing so unpleasant." The measures Lee Wen and the neighbors have taken are not appropriate.
Today's Top News
Top Life News

China puzzled over US filing tax complaint at WTO




Chen, Annette Lu slightly wounded in shooting




Specific reform objectives set for banks




Bush urges allies to stick with united mission




Marriage bells toll in cyber churches




Chinese, French women hold dialogue