When literature falls across Internet
(CRIENGLISH.com)
Updated: 2004-02-25 11:20
Writing has long been considered a lonely profession. But when prose gets posted on the Internet, the instant feedback makes writing not so lonely any more.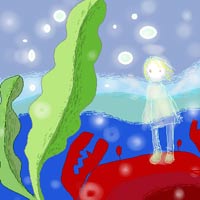 Not many people who are fond of writing actually end up getting their work published in books, magazines or in newspapers. However, the Internet opens a door to aspiring writers. A new term "Cyber-literature" has been catching on.
For many cyber-literature lovers, the day starts like this:
"I turn on my computer, the first thing I do is find out whether anyone left comments on what I posted the previous day."
Giving herself the net name "echo-bird", the girl is a postgraduate at the Shanghai-based Fudan University. She became addicted to online writing two years ago. She is among the millions of Chinese who post their writing on the internet. What on earth is the attraction of online writing? People give different answers:
"The biggest attraction is that I can write down whatever on my mind, I do not need to worry whether it caters to a certain magazine or newspaper."
"To post your writing online is easy, it doesn't involve complicated procedures as contributing an article to magazines or newspapers."
"I can receive feedback as soon as I finish writing online."
Cyber-literature came to China in the mid 1990s when several literary web sites were set up, but at that time, the internet acted merely as a new carrier for traditional literature, with most of the works simply scanned and posted.
It was not until 1998 that online writing's popularity really skyrocketed. A modern love story entitled "First Close Touch" written by Taiwan writer Pizi Tsai got widely spread on the net. Its free writing style and nifty language quickly attracted people. For most Chinese people, it was their first encounter with cyber-literature. The fad becomes increasingly fierce and intensive as the story was later published and adapted into a movie and stage drama.
From then on, more and more once readers started posting their own stories, poems, articles and other works online, a brand new venue, sharing them on various BBSs (Bulletin Board Systems) or literary websites. One of the sites that receives the most hits is rongshuxia.com, world's largest publisher of literature in the Chinese language.
Set up seven years ago, Rongshuxia provides a platform for writers to exert their talents.
Lu Jinbo, chief editor of the website, is a famous online writer himself. He explains the development of this literary website.
"In the beginning, we received two or three pieces a day, while now, the number has surpassed 5,000. Over the past seven years, more than 100,000 have had their articles published here."
These keen writers don't get paid, but their online writing fever never cools down. Lu Jinbo says:
"Among the visitors, over 60 percent are students, and college students account for a majority of participants. Our website is merely a platform for these writers."
"Writing is a desire to freely express one's thoughts. Writers want their works to be appreciated and commented on by others. This is for self-fulfilment. Each entry posted online here could possibly be viewed tens of thousands times. These online writers have just as many or even more readers as professional writers."
Unlike professional writers who put words on paper for a living, most of the online writers take up writing only in their spare time—in other words, when they feel like writing something. But there are some netizens who eventually become professional writers and whose writings are widely acknowledged. 45-year-old Ning Ken is one of them. Two years ago, his long story "The Veiled City" was posted online and won him one of the most prestigious awards in China—the Lao She Literary Award, which was named after the renowned Chinese with the same name. This was the first time the award has been given to a piece of work posted online. Ning Ken recalls.
"I benefited from the internet. After I sent out my articles to publishing houses, I waited and waited but there was no reply. So I put it online. I didn't expect that it would become so popular among online readers."
The story has now been printed to books, realizing the dream of the writer, who was soon adopted by the Beijing Writers' Association.
A famous writer now, Ning Ken says he still likes to put his works on the internet first.
"When I finish a piece of writing, I usually put it on the internet before sending it to magazines. I want to hear others' comments first. People's suggestions and even their criticism give me inspiration."
No one can deny the impact of the internet on aspiring writers. Writing without limits and writing for feedbacks are the big advantages of posting works online. Moreover, in most cases, writing anonymously gives people more freedom. This leads to greater creativity.
However, as newcomers join more online writing circles there are raising doubts about the quality of the online entries. Easy access leads to quite a number of shoddy articles. Many critics say subjects popular on the internet are not deep enough, many concentrating on giving vent on one's dissatisfaction about love and life while paying little attention to larger social problems.
Regarding this phenomenon, Li Qing, secretary-general of the Beijing Writers' Association, says every coin has two sides. She feels people should look more at the good points of online writing.
"Among online writers, many of them have special talent. The Internet has helped us find a lot of good writers whom otherwise we may have missed."
By the end of last year, the number of China's netizens reached 80 million, a drastic jump from the 620,000 users recorded in 1997. As this number keeps growing, cyber-writers will keep increasing as well.
Today's Top News
Top Life News

China puzzled over US filing tax complaint at WTO




Chen, Annette Lu slightly wounded in shooting




Specific reform objectives set for banks




Bush urges allies to stick with united mission




Marriage bells toll in cyber churches




Chinese, French women hold dialogue