Michael Jackson and ex-wife hired retired judge
(Agencies)
Updated: 2004-02-25 10:04
Michael Jackson and his ex-wife, Deborah Rowe, have agreed to hire a retired judge to handle an unspecified "family law matter," according to a court document.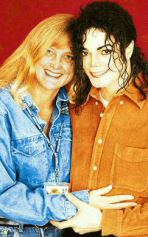 Michael Jackson and his ex-wife, Deborah Rowe [file photo]

The matter is believed to concern the custody and visitation arrangements for the couple's two children.

In a court order filed Friday, Superior Court Judge Carolyn Kuhl approved an agreement reached by Jackson and Rowe on Jan. 27 to have retired Los Angeles Superior Court Judge Stephen M. Lachs preside over the case. The order said his appointment would continue "until the conclusion of all matters."

Lachs works with a center for alternative dispute resolution that allows parties involved in civil disputes to hire private judges at a rate of $650 an hour.

"They hire private judges so that everything can be done behind closed doors," said attorney Dana Cole, an expert in family law who is not involved in this case.

"When it comes to children this may not be inappropriate," Cole added.

It has been reported that Rowe wants to change the terms of the custody and visitation agreements involving her two children with Jackson.

Rowe's attorney, Iris Finsilver, did not immediately return a call for comment. A call to Jackson attorney Lance Spiegel was answered by a recording saying Spiegel's law firm did not respond to media requests for comment.

With Jackson facing trial on child molestation charges, Cole said such a request to change the terms of the child custody agreement would not be unusual.

"Even if they had a custody and visitation agreement, it can be changed at any time with a showing of changed circumstances," he said.

Cole also noted there have been recent reports that Rowe, who is Jewish, is concerned that since his arrest Jackson has employed members of the Nation of Islam as his security force.

"He may have made certain commitments to her about the religion that the children would be raised in," said Cole. "That could be the reason for reopening the case."

He said the private judge's rulings would be as binding as if they were made in a regular family court, but would also remain private.

Rowe and Jackson were married in November 1996 in Sydney, Australia, after they announced that Rowe, who was the nurse to Jackson's plastic surgeon, was carrying the pop star's child. She gave birth to a son, Prince Michael, who recently turned 7, and the couple later had a daughter, Paris, who is 5 or 6. Jackson has a third child, Prince Michael II, who is believed to be about 10 months old, but he has not disclosed the identity of that boy's mother.

It was Prince Michael II Jackson made headlines with last year when he dangled him from the balcony of a Berlin hotel for fans to see.

The Jackson-Rowe marriage ended on Oct. 8, 1999, after Rowe filed for divorce citing irreconcilable differences. The divorce papers said the parties reached a confidential agreement regarding property and debts but did not say what custody arrangements were agreed to.

The children reportedly live and travel with Jackson, and he took them on a trip to Aspen, Colo., last week to see the snow, according to his spokeswoman Raymone K. Bain.

In a related matter, a judge rescheduled a hearing Tuesday for the father of Jackson's young accuser, who is seeking visitation rights.

Attorney Michael Manning, who represents the boy's mother, said his client didn't appear at Tuesday's hearing in Los Angeles Superior Court because the attorney for the boy's father didn't notify her of the court date in time.

The father's attorney, Russell Halpern, said the mother failed to appear at a meeting where the two sides were to try to mediate the dispute because she had medical problems. Manning said she was unable to appear because of doctor appointments. He declined to elaborate.

The accuser's father pleaded no contest to child cruelty in 2002 and spousal abuse in 2001 and has been barred from seeing any of his three children.

He has asked to visit his son because of rumors the boy, who has battled cancer, is in ill health. He also said he hoped to determine if Jackson molested the boy.

His request for immediate visitation was denied last month, but Judge Richard E. Denner scheduled Tuesday's hearing to consider any additional evidence showing why the father should be allowed to have contact with the boy. He rescheduled the hearing for April 9.

Halpern said that since the boy's mother filed for divorce in October 2001, the father has completed classes in parenting and anger management.

Jackson has pleaded innocent to seven counts of performing lewd or lascivious acts on a child under 14 and two counts of administering an intoxicating agent, reportedly wine. He is free on $3 million bail pending trial.
Today's Top News
Top Life News

China puzzled over US filing tax complaint at WTO




Chen, Annette Lu slightly wounded in shooting




Specific reform objectives set for banks




Bush urges allies to stick with united mission




Marriage bells toll in cyber churches




Chinese, French women hold dialogue