Countdown begins for Putin to pick new premier
(Agencies)
Updated: 2004-02-25 09:20
The clock began ticking on Russian President Vladimir Putin's nomination for a new prime minister on Wednesday after he surprised markets and voters by dismissing his government a mere three weeks before an election.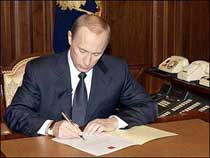 Russian President Putin signs a directive to sack Prime Minister Kasyannov and the entire cabinet.[Reuters]

Putin has two weeks to pick a replacement for Mikhail Kasyanov, whose administration he sacked on Tuesday, but he has pledged to do so in half the time, having installed Kasyanov's deputy Viktor Khristenko as an interim prime minister.

Analysts said Khristenko, colorless by comparison with the suave Kasyanov, was a candidate to fill the job full-time, along with outgoing Finance Minister Alexei Kudrin, Defense Minister Sergei Ivanov or Deputy Prime Minister Boris Alyoshin.

The demise of Kasyanov, seen as the government's last link with former president Boris Yeltsin, did not presage a big change in the management of Russia's economy, observers said.

"I think that the team of reformers headed by (Economy Minister) German Gref will keep their positions," said Sergei Markov, director of Russia's Institute of Political Studies.

The timing of Putin's move and his explanation of it -- a chance to show how policy will develop after the election -- showed his confidence of winning the March 14 poll, which he is widely expected to win by a landslide.

Michael Heath, strategist at brokerage firm Aton, said Putin was seeking to avoid the post-election instability of installing a new government: "In effect," Heath said in a research note, "he is simply bringing the process forward a few weeks."

Margot Light, professor of international relations at the London School of Economics, said Putin's move was a canny way of avoiding having a lame-duck "acting cabinet" between the March election and his inauguration in May.

"This way he will also have an acting cabinet, but it will be the cabinet that he will re-present in May and nothing will have been wasted in terms of time," she said. "It's very clever. He's sending a message to say: 'I'm a man who can do business -- watch me'."

The search for a new prime minister who will map out future policies has injected some adrenaline into the one-horse presidential race in which the overwhelming favorite, Putin, has declined to engage in debate with the other candidates.

Analysts said Putin wanted to oust Kasyanov personally rather than his whole team, but under the constitution he had to sack the entire cabinet to get rid of a prime minister.

"It does seem to be using a sledgehammer to crack a nut," said Robert Skidelsky, director of the Moscow School of Political Studies.
Today's Top News
Top World News

Greenspan: Free floatation of the yuan could be risky




Political advisers pledge to better people's life




Jam-proof satellite going up next year




More and more women saying no to abusers




Bush, Kerry open battle for White House




NASA: Mars had enough water for life