Uganda rebels kill nearly 200 in refugee camp
(Agencies)
Updated: 2004-02-23 10:46
Rebels attacked a refugee camp in northern Uganda, torching homes and gunning people down as they fled, a priest and a legislator said Sunday. At least 192 people were killed, some perishing in the flames of their own homes.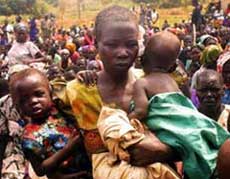 A mother and her children arrives in Lira this month after fleeing rebels. [AFP]


The rebels with the Lord's Resistance Army raided the Barloonyo camp late Saturday, burning huts and firing on people with assault rifles and mortars, said the Rev. Sebhat Ayele, who visited the camp Sunday.

"I saw one hut with seven family members still burning and three (people) in the next hut were also still burning," Ayele, said by telephone from the nearby town of Lira, 155 miles north of Kampala.

Local lawmaker Charles Anjiro said he and the district police commander counted 192 bodies Sunday morning.

"The scene is terrible, it's the worst situation I've ever seen in my life," Anjiro said.

Army spokesman Maj. Shaban Bantariza confirmed the attack, but could not verify the death toll. He said the camp was home to about 5,000 people.

It was not possible to contact the Lord's Resistance Army, a shadowy group that has been fighting President Yoweri Museveni since he came to power in 1986. It rarely makes contact with the outside world.

After the Sept. 11 attacks, U.S. President Bush put the group on a list of organizations suspected to have links to terrorism.

The camp was guarded by members of a local defense force but they were outnumbered and outgunned, Bantariza said.

"Instead of running away they (some of the people in the camp) entered their huts and the rebels burnt them alive," Bantariza said.

An army spokesman, 2nd Lt. Chris Magezi, said government forces were pursuing the rebels.

The rebels are led by Joseph Kony, who claims to have spiritual powers. They have terrorized towns across northern and northeastern Uganda, forcing an estimated 1 million people to flee. The group replenishes its ranks with children it abducts to use as fighters, porters or concubines.
Today's Top News
Top World News

Experts: China may raise renminbi interest rate




Two Chinese students murdered in Norway




Bird flu restrictions eased at first site




Schwarzenegger hints at White House interest




China to get another look at Oscars




Online posting comes under criticism