Schwarzenegger hints at White House interest
(Agencies)
Updated: 2004-02-23 08:41
Arnold Schwarzenegger, making his Sunday talk show debut as governor on NBC's "Meet the Press," said that he and other foreign-born citizens should be eligible to run for the White House and that U.S. President Bush can carry California in November if he does more to help the state.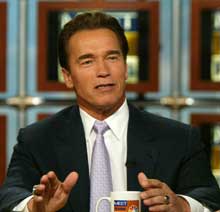 California Governor Arnold Schwarzenegger (L) speaks on NBC's 'Meet the Press' during a taping at the NBC studios in Washington, February 22, 2004. [Reuters]

The Austrian-born former bodybuilder, in the capital for his first meeting with fellow governors, said he has not thought about running for president in the future. The Constitution says only natural-born citizens of the United States are eligible for the country's highest office.

The Republican governor said anyone who has been in America more than 20 years — as he has — should "absolutely" be able to seek the presidency. A constitutional amendment proposed by Sen. Orrin Hatch, R-Utah, would make that possible.

"There are so many people in this country that are now from overseas, that are immigrants, that are doing such a terrific job with their work, bringing businesses here, that there's no reason why not," said Schwarzenegger, who became a U.S. citizen in 1983.

"Look at the kind of contribution that people like Henry Kissinger have made, Madeleine Albright," he said, referring to two former secretaries of state who were born in Europe.

Schwarzenegger told "Meet the Press" host Tim Russert that he has been too busy with California's problems to contemplate a future run for the White House. "I have no idea, I haven't thought about that at all," he said.

Warns of slippery slope on gay marriage

Schwarzenegger reaffirmed his opposition to the gay marriages that are taking place in San Francisco. He said Mayor Gavin Newsom's refusal to obey the state's law against same-sex marriages could set a bad precedent.

On Friday, the governor said he had directed California's attorney general to take action to stop the marriages.

"In San Francisco it is license for marriage of same sex. Maybe the next thing is another city that hands out licenses for assault weapons and someone else hands out licenses for selling drugs, I mean you can't do that," Schwarzenegger said on NBC.

"We have to stay within the law. There's a state law that says specific things, and if you want to challenge those laws then you can go to the court," he said.

Schwarzenegger, who was sworn in Nov. 17 after winning a special election to replace recalled Democratic Gov. Gray Davis, is making his first visit to Washington since taking office.

He is attending the winter meeting of the National Governors Association. State leaders were to meet with Bush at the White House on Monday.

'The Collectinator'?

Schwarzenegger campaigned during last year's recall election on a pledge to be "the Collectinator" and get more money for California from the federal government. Bush's budget, however, did little to help the state.


Schwarzenegger said he did not feel let down by the president and said Bush can win California in November — if he does more to help the state financially. Bush lost California by 1.3 million votes to Democrat Al Gore in 2000.

"I think it is totally directly related to how much he will do for our state, there's no two ways about it," Schwarzenegger said. "Because Californian people are like a mirror, you know that what you do for them they will do back for you," Schwarzenegger said.

"If the federal government does great things for California this year I think there's no two ways about it, that President Bush can have California, he can be elected, I'm absolutely convinced of that."
Today's Top News
Top World News

Experts: China may raise renminbi interest rate




Commentary: 'One country' key to `two systems'




Online posting comes under criticism




Bird flu restrictions eased at first site




Schwarzenegger hints at White House interest




China to get another look at Oscars