China plans to put two people into space in 2005
(chinadaily.com.cn/Agencies)
Updated: 2004-02-22 08:46
China, which last year became the third nation to blast a man into space, plans to send two astronauts up on a five-to-seven-day mission in 2005 and later build a space station, China Central Television (CCTV) reported on Saturday.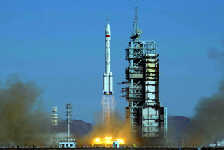 China's first manned spaceship - Shenzhou V blasts off into space morning October 15, 2003. [newsphoto]

Wang Yongzhi, chief designer of the nation's manned space program, told CCTV preparations for the launch of the two-person Shenzhou VI craft were proceeding smoothly.

Last October, solo astronaut Yang Liwei circled Earth 14 times during a 21-hour trip aboard the Shenzhou V, a name meaning "Divine Ship."

"We will continue by launching Shenzhou VII, Shenzhou VIII and so on, carry out spacewalks, make space dockings and set up a space laboratory," Wang told CCTV.

He said astronauts would stay aboard the orbiting lab for short periods, with spacecraft ferrying them back and forth. Eventually, China would launch a larger space station capable of carrying out more extensive experiments, he said.

China's team of 14 trained astronauts, including Yang, have been placed in seven pairs to train for the next mission and three of the pairs will be finalists to fly it, Xinhua news agency said early this month.

China is also preparing to select and train new astronauts as the current ones are all over the age of 30, Xinhua said.

Wang's remarks were broadcast just a day after he and another scientist received China's annual State Science and Technology award from President Hu Jintao, along with a cash prize of five million yuan ($605,000).
Today's Top News
Top China News

Office: Beijing watches Taiwan developments closely




State tightens farmland protection




Doctor starts 49-day fast to test TCM regimen




Fighting follows Afghan minister's killing




China values military ties with neighbors




Dads ask: 'Is this my child?'