Cats, leopard dies of bird flu
(Agencies)
Updated: 2004-02-20 13:44
Two domestic cats and a leopard have died in Thailand from the same bird flu that has devastated the nation's poultry industry and killed at least 22 people across Asia.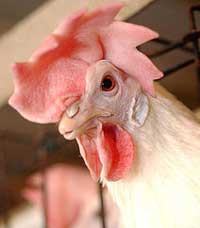 A H7 strain of bird flu has been detected on a British Columbia farm in Canada. [AP]

The finding by Thai veterinary officials has alarmed authorities still battling to contain the deadly disease because they are the first worldwide cases of bird flu found in felines.

"They might have caught the virus from eating chicken carcasses or from live chickens that had bird flu," Kasetsart University veterinarian Dr. Teerapol Sirinaruemit said. A tiger was sick with the virus but recovered, he added.

The cats were among 15 living in a house located near an infected chicken farm in Nakorn Pathom, 60 km (40 miles) west of Bangkok, Teerapol said. A total of 14 cats died but it was unclear whether the others were infected with the H5N1 virus.

Prime Minister Thaksin Shinawatra cautioned Thais not to feed their pets uncooked chicken meat.

"Please don't panic," Thaksin told reporters in Bangkok.

"If animals eat raw infected chicken, they will have no immunity. Please do not feed your animals uncooked chicken."

Across Asia, apart from millions of poultry, other bird species have also been killed by the H5N1 strain of avian flu.

At least 21 people have died from bird flu in Asia, seven in Thailand and the other 14 in Vietnam.

But there is no evidence yet of the disease becoming contagious in humans, who have been found to contract the disease directly from poultry, not infected people.

However, health authorities are concerned bird flu may sicken other animals, especially pigs, because of genetic similarities to humans.

They fear a new hybrid of the virus may form that would be contagious among people.

Other affected countries are Cambodia, Japan, China, Indonesia, Laos and South Korea. Pakistan and Taiwan have been hit by a milder strain not considered a threat to humans.

In other developments:

An Australian-designed drug could prove to be an effective human treatment for the deadly bird-flu strain that has been causing havoc across Asia.

An H7 strain of bird flu has been detected on a farm in British Colombia, Canada. Canadian officials are testing samples of a low-risk bird flu virus to determine if the strain is one that kills almost all infected poultry. Officials say the H7 avian flu has been contained on the farm.

Vietnamese Prime Minister Phan Van Khai has called for the epidemic to be brought under control within this month, but despite a positive response from local authorities, the United Nations food agency's director of animal health said it might be impossible to eradicate the virus. The disease has spread to 57 of Viet Nam's 64 provinces and major cities.

Japan confirmed a new outbreak of bird flu on Tuesday, thwarting its plans to declare an end to the scourge there. Japanese officials began inspecting farms housing some 6.8 million birds in southwestern Japan -- just two days before the nation was to declare itself free of the disease.

The United Nations' Food and Agriculture Organization will hold an emergency meeting February 26-28 in Bangkok to discuss ways to fight the disease and measures to revive the poultry sector.

Singapore gassed and incinerated 5,000 chickens at a remote farm on Wednesday to practice culling techniques in case the virus spreads to the city-state.
Today's Top News
Top World News

WHO: No need to panic over cats catching H5N1 virus




Why it's vital to recall what Deng said about HK




China denies donation to US Senator Kerry




China signs NBA coach for men's team




AIDS prevention committee in the making




Spam e-mail plays on men's little worries