China signs NBA coach for men's team
By Shen Wei (chinadaily.com.cn)
Updated: 2004-02-20 11:05
China Basketball Association (CBA) announced the appointment of Dallas Mavericks assistant coach Del Harris as the coach of Chinese national team at the Athens Olympics on Friday, Feb. 20, 2004.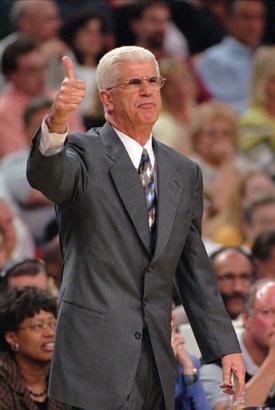 Del Harris: the new coach of Chinese national men's team at the Athens Olympics. [File/AP]

Former coach of Lithuanian national team Jonas Kazlauskas and two Chinese coaches, Min Lulei and A Dijiang, were appointed Harris' assistants.

The first leg of Harris' contract is due to the end of the Athens Olympics, CBA said. Further contract is considerable depending on the team's performance in Athens.

Del Harris and Jonas Kazlauskas will arrive in Beijing together in a couple of days.

Harris, 66, has logged a record of 556-457 in 13 years as a head coach with the Houston Rockets, the Milwaukee Bucks and the LA Lakers. He took Houston to the 1981 NBA Finals, where they fell to the Boston Celtics.

Harris aso has strong international experience. He learned fluent Spanish during a stint in Puerto Rico and aso helped out the Canadian nationa team.

China finished 10th at the 2000 Olympics in Sydney and 12th at the 2002 World Championships in Indianapolis.
Today's Top News
Top Sports News

Greenspan: Free floatation of the yuan could be risky




Political advisers pledge to better people's life




Jam-proof satellite going up next year




More and more women saying no to abusers




Bush, Kerry open battle for White House




NASA: Mars had enough water for life