Brazil samba group preaches safe sex
(Agencies)
Updated: 2004-02-19 11:27
Carnival has always been a celebration of flesh and abandon, but as celebrations get under way a prominent samba group is reminding revelers not to forget their condoms.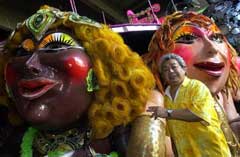 Joaosinho Trinta, right, poses next to some of the floats of the Rio Grande samba school on Sunday, Feb. 15, 2004. Trinta, who has designed the group's parade, seems intent on provoking the Church with floats that feature giant statues of Adam and Eve simulating fornication and costumes featuring sexual positions out of the Kama Sutra. [AP]

Carnival doesn't get under way officially until Friday, but the airwaves are crowded with the sound of this year's most popular samba songs. And among the most irreverent is Grande Rio group's "Let's Wear the Little Shirt, My Love" — slang for wearing a condom.

To make sure everyone pays attention, the Grande Rio's floats feature giant statues of Adam and Eve simulating sex and costumes featuring sexual positions out of the Kama Sutra.

The group says the pro-condom message is an important social statement, even if it clashes with Brazil's Roman Catholic traditions. Carnival celebrates the beginning of the Christian season of Lent.

"We very much respect the Church because we're a Catholic country but we also recognize the importance of using condoms because there's an epidemic in the world," said Liege Monteiro, spokeswoman for Grande Rio.

The group has earned praise from the United Nation's anti-AIDS program. The federal government's anti-AIDS program also plans to distribute 10 million free condoms during the five-day bash.

"Grande Rio's decision to promote a safe sex message during the Rio carnival is a very bold move that must be applauded," Dr. Luiz Loures, UNAIDS (news - web sites) Associate Director for Europe and the Americas said in a written statement.

Loures plans to visit the workshop where Trinta and others are putting finishing touches on the carnival floats Thursday. The Grand Rio group is scheduled to march early Monday.

The reaction from the Catholic church has been relatively restrained, though Grande Rio's explicit floats and costumes have raised some eyebrows. Rio's archbishop, Rev. Eusebio Oscar Scheid, said organizers should make sure the group doesn't go too far.

"If it seeks to discredit, in the eyes of the world, Rio's carnival — that can be so beautiful — through one or another indecorous or unacceptable scene, then justice should intervene for the common good," Scheid said.

In the past, the church has sued to have Catholic symbols removed from carnival parade floats it deemed too explicit, but so far no legal action has been taken.
Today's Top News
Top World News

Kerry: 'We both voted for the China trade agreement'




Brakes put on imported car sales




Iran freight train blast kills about 300 people




Standard Chartered to launch RMB services




Call centre set to help with US visa information




Hao's header helps clip Kuwait