Attack on coalition base kills 11 Iraqis
(Agencies)
Updated: 2004-02-19 09:15
Two trucks packed with explosives blew up Wednesday outside a Polish-run base south of Baghdad after coalition forces opened fire on the suicide bombers racing toward them. Eleven Iraqi civilians were killed and at least 106 people were wounded, many of them coalition soldiers.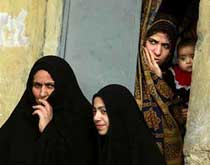 A young girl tries to take a peek as an Iraqi family stands outside of their house in Samawa, Iraq on February 18, 2004. [Reuters]

Suicide car bombing exploded in the run-up to a U.N. report on the feasibility of direct elections in Iraq.

U.S. soldiers captured seven insurgents with possible links to al Qaeda during a raid in Baquba, 40 miles north of Baghdad, the U.S. military said.

"The seven targets may have links to al Qaeda," a military spokesman said. They were suspected of being part of a cell that launched attacks against U.S.-led occupation forces, he said. A further 15 people were arrested in the same raid.

The United States has frequently suggested al Qaeda is trying to infiltrate Iraq and launch attacks against U.S. forces and sow strife between Sunni and Shi'ite Muslims.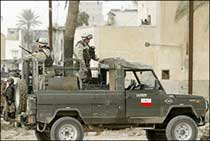 Polish troops in Hilla. A Polish football team said it had called off a planned tour of Iraq after suicide bombers attacked a Polish military base Feb. 18, 2004. [AFP]

A spokesman for Polish-led forces in Hilla, about 60 miles south of Baghdad, said 44 Iraqis were wounded in the suicide attacks. The wounds of the soldiers were not life-threatening.

Lt. Col. Robert Strzelecki told Reuters that guards outside the base stopped one of the cars by shooting at it but that a second car exploded after smashing into a wall.

"At 7:15 local time (11:15 p.m. EST Tuesday) near the logistics base there was a terrorist attack using two cars," Strzelecki said. "We found the bodies of the two drivers."

U.S.-led Coalition Provisional Authority spokeswoman Hilary White said later "we can confirm that more than 11 Iraqis were killed," including men, women and children.

The blasts, like car bombs last week that killed about 100 people as they enlisted in the Iraqi army and police, left survivors blaming Iraq's U.S. occupiers for the bloodshed.

"We heard the sound of a plane overhead and a rocket landed and then a second rocket landed," said Omar Zayed, 17, who lives near the site of the explosion.

The wounded foreigners included at least 12 Filipinos, 12 Poles, 10 Hungarians and two Americans.

HANDOVER PLANS

The attacks are the latest in a string against soldiers of countries helping the United States occupy Iraq, and highlighted the violence that threatens U.S. plans to formally hand sovereignty over to Iraqis by June 30.

The U.S.-backed Governing Council said it was pushing ahead on an interim constitution which is to give a legal framework for the transitional government.

The drafting of the interim constitution, or Basic Law, is a key step in a U.S. plan for a power transfer, which has hit a snag due to demands for elections before the transfer of sovereignty rather than the caucuses Washington had wanted.

"We are down now to one draft, if we continue with the same mechanism of work we will be able to fulfill our commitments and submit this draft by the end of this month," Adel Abdul Mahdi, a senior member of a leading Shi'ite Muslim party on the council, told a news conference in Baghdad.

U.N. Secretary-General Kofi Annan is scheduled to present a report on Thursday or Friday that will say direct elections, as demanded by the top religious authority for Shi'ite Muslims, are not possible by June 30 but could be held later this year or early next year.

Diplomats at the United Nations said Annan was expected to delay a key part of the report -- dealing with what kind of a caretaker government will take over on June 30 -- because it needed more time.

The U.S. commander in Iraq said he saw American troops staying for years, and helping Iraqis maintain order in Baghdad for at least the coming 12 months.

"The Iraqis tell us they don't want us here, but nor do they want us to go. It's very complicated," Lt. Gen. Ricardo Sanchez told Spanish newspaper El Pais.

An off-target artillery round struck a house and killed three people just northeast of Tikrit Tuesday, a U.S. military official said. The round was meant to strike a position from which rockets were fired at the U.S. Army's main base in Tikrit the day before.
Today's Top News
Top World News

Kerry: 'We both voted for the China trade agreement'




Brakes put on imported car sales




Iran freight train blast kills about 300 people




Standard Chartered to launch RMB services




Call centre set to help with US visa information




Hao's header helps clip Kuwait