Hao's header helps clip Kuwait
(China Daily)
Updated: 2004-02-19 00:09
China's quest to qualify for the 2006 World Cup got off to a winning start last night when 34-year old striker Hao Haidong headed in the lone goal to give his team a 1-0 win over Kuwait at Guangzhou's Tianhe stadium.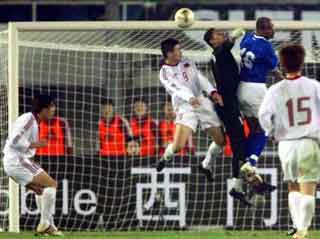 Hao Haidong (C) heads in a goal during the World Cup soccer qualifying match against Kuwait at Tianhe Stadium in the southern city of Guangzhou, February 18, 2004. China won 1-0. [Reuters]


Hao's superb play throughout paid off in the 75th minute as he headed home a deep cross from the right by midfielder Wei Xin after Kuwait keeper Shehab Aha Kankune came off his line in a failed attempt to punch the pass away.

The win marked the first for China's Dutch coach Arie Haan, who has taken up the challenge of leading China to the World Cup again following the nation's first appearance in the tournament in 2002.

"The first match is always difficult. My players did a very good and satisfying job,'' said Haan.

Haan appeared extremely nervous on the sidelines as his side repeatedly missed chances, despite valiant efforts from Hao to set up his teammates.

In the 16th minute Zhang Yuning sent a Hao cross on to Kankune's foot just outside the goalmouth, while a charging Zheng Zhi sent a nifty Hao pass sailing over the bar nine minutes later as the first half ended scoreless.

China had 14 shots on goal, but had difficulty finishing as the Kuwait team repeatedly packed the penalty area and rarely made an attempt to counter-attack.

"We had many chances in the first half but we missed. That made players a bit nervous,'' said Haan.

"But the most important thing is we won the game. We are training hard and training every day just for the win.''

When asked if he felt nervous and unsatisfied during the break, Haan dismissed the speculation.

"No, I was not unhappy at the break. Players on the pitch performed normally. We also did well on defence.''

Kuwait failed to get a shot on goal in the entire match, sticking closely to the strategy of Brazilian coach Paulo Cesar Carpegiani of staying deep and defending.

Following Hao's goal, the Kuwait defence maintained its form and continued to repulse China's attack, but the visitor's emotions began to show through when Hohayr Al-Shammari and Hamid Al-Harabi were carded in the 76th and 90th minutes respectively, and Fahad Al-Hamad was sent off for spitting on Chinese captain Li Weifeng.

"China was pressing throughout the match. There were so many fans out in the stands. This gave us pressure and difficulties,'' said Kuwait coach Paulo Cesar Carpegiani.
Today's Top News
Top Sports News

Greenspan: Free floatation of the yuan could be risky




Political advisers pledge to better people's life




Jam-proof satellite going up next year




More and more women saying no to abusers




Bush, Kerry open battle for White House




NASA: Mars had enough water for life