Mexico ex-President Lopez Portillo dies
(Agencies)
Updated: 2004-02-18 14:02
Former Mexican President Jose Lopez Portillo, famous for swearing to defend the peso "like a dog" shortly before devaluing, died on Tuesday from complications from a pneumonia contracted earlier in the week.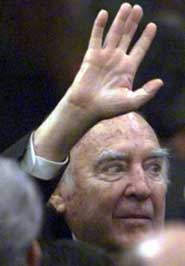 Former Mexican President Jose Lopez Portillo acknowledges applause at the PRI's (Institutional Revolutionary Party) 70th anniversary assembly in Mexico City in this March 4, 1999, file photograph. [Reuters]

Aged 83, Lopez Portillo ruled from 1976 to 1982 and presided over an oil boom that fed some of the worst corruption excesses ever seen in Mexico in an administration characterized by nepotism and graft.

A career politician and intellectual, Lopez Portillo died surrounded by about 50 relatives and close friends.

"He died in peace, with his family and with his conscience clear," his son Jose Ramon Lopez Portillo told reporters. He said his father died at 8:15 p.m. (9:15 p.m. EST).

Lopez Portillo died without facing trial for hundreds of deaths and disappearances of leftists during Mexico's "dirty war," for which rights groups blame him and former president Luis Echeverria (1970-1976).

"I do not enjoy perfect health, perhaps I'm paying for my sins," the former president said in 2001 when he had a double bypass operation in Houston, Texas.

When the nation's finances plunged in an oil price slump in the early 1980s, a flailing Lopez Portillo swore to defend the peso "like a dog." However, he devalued it by 41.7 percent in 1982. Thereafter, he was hounded by mocking canine yelps whenever he appeared in public.

In one of his final acts in office, Lopez Portillo stunned the financial community by nationalizing the banking industry. He left the presidential palace in disgrace, handing successor Miguel de la Madrid a severe economic crisis.

Born on June 16, 1920, Lopez Portillo joined the Institutional Revolutionary Party, or PRI, in 1945 and worked his way up through the ranks. The PRI held grip on the presidency for 71 years until it was ousted by President Vicente Fox in a July 2000 general election.

After spending three years as finance minister under his boyhood friend, Echeverria, the latter hand-picked him as his successor in a race where he was the only candidate.

A skilled wheeler dealer, he gave political asylum to foreign exiles and offered an amnesty for Mexican political prisoners and leftists, all the while continuing to persecute suspected dissidents throughout his rule.

After state oil monopoly Pemex made a huge oil find in 1978, fat oil revenues created a wealthy class of bureaucrats with luxurious mansions and extravagant lifestyles.

Mexico became the world's fourth biggest oil producer and Lopez Portillo saw no reason to diversify the economy.

During these abundant times, Lopez Portillo named several friends and family members to key posts and appointed his lover, Rosa Luz Alegria, Minister of Tourism during his term.

But when oil prices fell drastically, the boom turned to bust; inflation soared and billions of dollars fled the country. Lopez Portillo blamed international bankers.

At the end of his rule, Lopez Portillo divorced his first wife, Carmen Romano, with whom he had three children, and lived for 16 years with his lover, actress Sasha Montenegro, before marrying her in 1995.
Today's Top News
Top World News

Party corruption fight gets tougher




Kerry edges out Edwards in Wisconsin primary




Putin watches as missile launch fails




China, US talk on ways to halt weapons spread




AIDS battle taken closer home




2,500 gay couples rush to wed, rulings seen