Officials to aid AIDS battle in Henan
(China Daily)
Updated: 2004-02-18 09:44
Villages in Henan Province which have the worst incidence of HIV/AIDS will have teams of officials posted there for a year as the government steps up efforts to contain the deadly virus and help the victims.
Henan Province in Central China is taking the fight against HIV/AIDS closer to home with 76 officials posted in villages seriously affected by the deadly virus.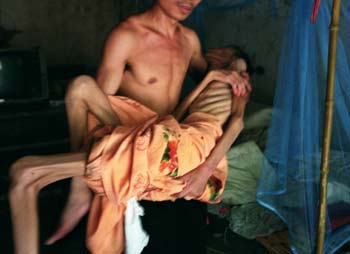 A picture showing an AIDS village in central China's Henan province wins First prize Contemporary Issues Stories category of the World Press Photo (WPP) contest in 2003. The Netherland-based WPP organization released the winning photos on Friday, Feb 13, 2004. [newsphoto]
The officials -- divided into 38 pairs -- are from 38 provincial government departments, such as the health and finance bureaux, will be stationed in 38 villages for a year. They start their work today after receiving AIDS prevention training.
There are at least 10 HIV/AIDS sufferers in the designated villages and some of them have up to 400, says Guo Weiqun, deputy director of the general office of Henan Health Bureau.
Each group will be joined by two officials sent by affected cities and counties.
Living with villagers
"They will live in these villages and be neighbours of HIV/AIDS sufferers," Zhang Shuxin, a division director of the General Official of the Henan provincial government, told China Daily.
Among their tasks are:
* Help establish and improve grassroots medical treatment and relief systems for HIV/AIDS sufferers.
* Strengthen infrastructure to fight the disease.
* Ensure that village authorities use HIV/AIDS funds properly and strictly according to laws and regulations.
* Oversee the implementation of the central government's so-called "four free charges and one care" comprehensive project for HIV/AIDS victims.
The project includes offering free medicine for HIV carriers, free and anonymous HIV tests for villagers, free education for orphans of HIV/AIDS victims, free pre-natal treatment of infected pregnant women, and taking care of elderly people who have lost children to AIDS.
A total of 11,844 people have been confirmed HIV-positive in Henan -- about 14 per cent of the total in China -- most of whom infected through illegal blood transfusion.
Many poor-income farmers from provinces such as Henan, Shanxi and Sichuan were infected when sold their blood illegally; and spread the virus to their spouses and partners in the early 1990s.
Following the concern showed by top central government leaders while visiting HIV/AIDS sufferers at the grassroots level, local officials in Henan are, for the first time, taking concrete measures to take care of the unfortunate villagers.
And because bringing the spread of HIV under control needs concerted efforts from various fields, the 76 officials will play another important role: To be a bridge between various departments and the effort to contain the virus, says Zhang Shuxin.
Better understanding
By living and working with villagers with HIV/AIDS, they can acquire a better understanding and render more support, Zhang explains.
Chen Ruijin, a 55-year-old official says the team will try and do more than the tasks entrusted by the government.
"We will be friends with the villagers; and have heart-to-heart talks which is the only way we can really know their sufferings -- which have long been ignored -- and try to help them."
The victims will be better understood by the outside world once we gave a direct experience, adds Chen, an official from the provincial health bureau.
Chen will live and work in Donghu Village of Xincai County, more than 400 kilometres away from his hometown Zhengzhou, capital city of Henan.
Of the 632 villagers who had illegally sold blood in Donghu Village, 231 had been confirmed as infected with the virus, with 177 having full-blown AIDS and 59 dead, says Chen.
"I know it will be hard work which needs great patience, but I am willing to do it because I also grew up in rural areas and, as a public servant, I must take on the responsibility."
Chen's words are echoed by Zhang Beichuan, a HIV/AIDS expert based in Qingdao, East China's Shandong Province, who says that ignorance has made the relationship worse between the authorities and HIV/AIDS sufferers in some places of China.
The Henan provincial government has made HIV/AIDS control a priority, especially since late last year. It plans to spend 80 million yuan (US$9.6 million) to build a primary school and a clinic, provide clean drinking water and set up other infrastructure for each village with a lot of HIV/AIDS sufferers and orphans live.
AIDS orphans
HIV/AIDS has orphaned 2,026 children in the province. Currently, some of them are being raised by relatives or adopted by other families, each of whom get 100 yuan (US$12) as living subsidy each month from the government. The rest of the orphans are accommodated in public orphanages.
According to an official investigation by the Ministry of Health and the United Nations last year, China currently has 840,000 HIV/AIDS sufferers including 80,000 AIDS patients.
The deadly virus is infecting people in the country at a rate of about 32 per cent; and experts warn that, if immediate measures are not taken, the total number may reach 10 million by 2010.
Since the late 1990s, the central government has been paying increasing attention to the epidemic, announcing a long-term national programme of HIV/AIDS prevention and control which aims to limit the number of cases to below 1.5 million by 2010.
However, at the end of 2003, the absence of enough attention to the problem from government leaders at various levels was seen as a major obstacle for effective HIV/AIDS control in China.
For example, more than 90 per cent of the officials at city or county level knew nothing about the national programme and other AIDS-related regulations issued by the central government, according to a survey done during 2001 and 2002.
Survey
The survey was done among 710 officials from 31 provinces, autonomous regions and municipalities attending training classes at the Party School of the Central Committee of the Communist Party of China, says Jin Wei, a professor of the school.
The survey shows that local officials, especially, have a poor understanding of the epidemic and related policies, which hinder their efforts to implement the State control programme at the grassroots level, Jin noted.
More than 32 per cent officials surveyed say HIV/AIDS control, which needs the co-ordination of various departments, had nothing to do with their work.
Meanwhile, another common practice among many local officials is to prevent the true picture from being known to the public or their superiors, for fear it would affect their career prospects.
However, the unexpected SARS outbreak in early 2003 has led to reporting of epidemic information becoming more open.
Since then, top Chinese leaders have broken new ground in tackling the HIV/AIDS problem.
Late last year, Premier Wen Jiabao became the first top leader to shake hands with HIV/AIDS sufferers -- at Ditan Hospital in Beijing.
And Vice Premier Wu Yi, who is also acting health minister, visited HIV/AIDS sufferers in Wenlou Village, Shangcai County of Henan Province, where there are about 400 HIV/AIDS cases.
Pilot projects had been started by the Ministry of Health in more than 100 counties to provide comprehensive care for HIV/AIDS sufferers by the end of last year.
Today's Top News
Top China News

China works to address U.S. concern on trade deficit




China, EU consolidate partnership




New planetoid Sedna discovered




Two Chinese abducted by rebels in Sudan




China, France hold joint naval drill




Pakistan kills two dozen terror suspects