CCTV restructuring proof of media reform
By Jia Hepeng, Zhu Baoru (China Business Weekly)
Updated: 2004-02-17 15:39
China's market-oriented media reform is likely to regain momentum this year, which may partially open State-owned media organizations' business management to non-governmental investment.
Some newspaper groups and TV stations have designed their plans and are waiting for the final approval from the General Administration of Press and Publication (GAPP), an insider close to the media market watchdog has told China Business Weekly.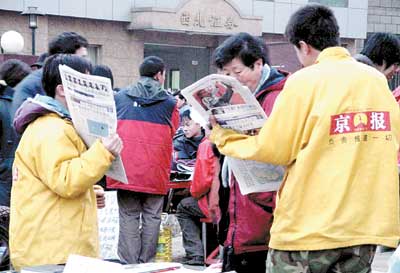 Sales clerks hawk copies of the recently established Beijing News, published by a joint venture between Beijing-based Guangming Daily and Guangzhou-based Nanfang Daily. Industry insiders suggest reform of China's media, especially involving ownership, has resumed, which may partially open State-owned media organizations' business management to non-governmental investment. The reform was halted last year during the outbreak of the severe acute respiratory syndrome.
The theory is not new: separating media's business departments - advertising, circulation and printing - from editorial, while attracting foreign and private investors.
Media outlets are also likely to reshuffle their personnel system. Many media outlets have worked out plans to try and break journalists' so called "iron-rice-bowl," or life-time employment system, the insider revealed.
Ownership and journalists' employment issues were hot topics last year, but nothing happened.
The newest publicized case relating to reform focuses on China Central Television Station (CCTV).
According to a scheme released last week by Cheng Hong, director of CCTV's editor's office, the State-owned station will spin off its production and non-broadcasting businesses, part of which may later be listed overseas.
CCTV took in a sales revenue of more than 8 billion yuan (US$963 million) last year.
CCTV's sports channel is likely to be the first to undergo reform, due to its popular programmes and relatively simple business configurations, senior Chinese officials said.
A new group based on the current sports channel will be set up, and sell its programmes to its parent, CCTV.
Meanwhile, the station will financially support its new subsidiaries in the first three years, before they are expected to start turning a profit.
Investment bankers said listing part of the CCTV business will attract international investors who are not presently allowed to directly run operations in China's media market.
In addition to the sports channel, CCTV Market Research Co Ltd, affiliated to CCTV, also declared recently that the station was preparing to be listed in Hong Kong.
Zhang Hui, an official with CCTV Market Research, said the move will help attract more strategic investors and strengthen the company's market expansion into Hong Kong and Taiwan.
Bold plan
CCTV's plan is part of the total picture of media reform landscape in China, which was launched last year but did not live up to expectations.
A senior GAPP official told China Business Weekly that the administration had proposed in early 2003 an aggressive reform plan which would impact heavily on all State-owned media outlets.
The requirement that most Party and government publications sever ties with their government agencies was the crux of the plan.
The publications would then be free to operate in the marketplace rather than continuing to serve as cultural units under government departments or social organizations.
The central government plans to end its direct financial support to, and mandatory subscription requirement of, all but three newspapers and two journals.
The government will continue funding People's Daily, the official newspaper of the Party's central committee, and the committee's journal, Qiushi, or Seeking Truth.
It had also been rumoured that China was considering allowing foreign and private investors to hold up to 49 per cent of Party media outlets' advertising and/or circulation departments.
All media outlets were required to report their initial financial reform plans, including their schemes to seek outside investors to their non-editorial departments, to GAPP before September.
While forcing media to swim in the market is not new in China, the nationwide ownership reform of business departments is totally unexplored, said Zhao Xiaobing, president of Global China (Beijing) Media Consulting Co.
But insiders say the sudden attack of severe acute respiratory syndrome, more commonly known as SARS, had halted the plan last year.
While suspending other work on the agenda of the central government for three months, SARS also caused concern among top Chinese policy-makers about social stability, which they feared might be disrupted by massive media reform.
Momentum resumes
According to Zhao, CCTV's plan to spin off some of its non-editorial and sports programmes can be considered a resumption of last year's reform momentum.
Li Changchun, a standing member of the Political Bureau of the Communist Party of China, its top decision-making body, said on February 6 in Beijing that cultural industries - which commonly include the media sector in China - should liberalize their productivity through restructuring their management system.
Li is the top Chinese leader responsible for the publicity, ideology and cultural sector. It is believed by some experts that Li's speech is fanning the media and culture sector reform.
Another case helping push the resumption of the bold move is the successful and ideologically safe trial cases of media joint ventures (JVs), such as the partnership between China IT World and the US-based International Data Group, said Zhao.
The JV, which was established in the mid-1990s as an exceptional trial case, has developed into a media group of 14 profitable technical newspapers and journals.
More importantly, the old practice of letting media outlets make profits in the market while tightly reining their ownership and management may create huge tension within the industry.
Zhao Yuezhi, an assistant professor of journalism at Vancouver-based Simon Fraser University, pointed out that the contradiction between profit-oriented market reform and media's stagnant personnel system is leading to low efficiency and sometimes, the corruption of journalist.
Ownership diversification of business departments would help attract outside investment in an institutionalized way, Zhao Xiaobing said.
But he added that although reform would come, it could not be carried out overnight.
"The situation is very complicated, and the right (reform) strategy will be on a case-by-case basis," Zhao said.
Today's Top News
Top China News

China works to address U.S. concern on trade deficit




China, EU consolidate partnership




New planetoid Sedna discovered




Two Chinese abducted by rebels in Sudan




China, France hold joint naval drill




Pakistan kills two dozen terror suspects