Off base, on the map
(Agencies)
Updated: 2004-02-17 15:20
In the age of reality television, success isn't the only ticket. Failure, in fact, has created a new genre of fame. Ask William Hung, a Hong Kong-born student who cut class here last fall to try out for "American Idol." Hung was prepared for the stage fright, the long lines, even the disparaging judges. What he didn't expect was for defeat to turn him into an international cult celebrity.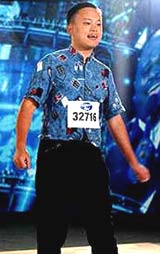 "I already gave my best.
I have no regrets at all."
--William Hung at 2004 American Idol Auditions

In a perverse and increasingly common twist that has overwhelmed and "kind of confused" the 21-year-old UC Berkeley civil engineering major, the spotlight that shone last week on his uninhibited, Chinese-accented rendition of "She Bangs" by Ricky Martin now just won't go away.

Though the three "American Idol" judges cut him off brutally in mid-song on the Jan. 27 broadcast — stifling laughter, then guffawing out loud as he confessed, "You know, I have no professional training of singing" — Hung has become an object of fascination for millions of strangers who either won't stop jeering or can't get enough of the sincere, upbeat way in which he handled the show's signature brand of humiliation.

Ken Warwick, the executive producer of "American Idol," said the phenomenon has become so frequent that he has a term for it — "anti-celebrity." "Bless him, William will be inundated with offers," Warwick said.

But Hung, whose audition was a whim, said the situation has stunned him. "There is fame and there is infamy," he said, his eyes downcast. "I don't know if this is bad or good."

Whatever it is, for the moment it is prolific. No fewer than three websites devoted to Hung have gone up on the Internet in the last week, including one that generated so much traffic — 4 million hits in four days — that it had to be shut down temporarily and moved to a separate server, according to its Arizona-based Web host provider, GoDaddy.com. A grass-roots campaign to get him back on the show, launched by a 24-year-old college student in Toronto, had collected more than 5,300 e-mail signatures by midweek. Sampled versions of his performance, remixed with hip-hop and techno music, have made the top 10 request list at Chicago's WKSC-FM radio.

In Silicon Valley, two 15-year-old girls have launched a fan club, williamhung.reallyrules.com, that they said got 22 applications from strangers within 48 hours of the site's unheralded appearance online. "We just thought it would be this funny thing for our friends to look at," said Rebecca Daley, a Foster City sophomore who devised the site with her friend Andrea Michaelian.

"I think people are inspired," said Don Chin, the 40-year-old real estate agent in the Northern California hamlet of McKinleyville who launched http://www.williamhung.net with his wife two days after the show was broadcast, partly because they were amused and partly because they saw merchandising opportunities.

"I'm Chinese, too, and he was the underdog, and I like to see the underdog make it. It took guts to go up there," Chin said. He added that he has a sideline selling gifts and novelties through EBay, and he instantly saw how Hung's seemingly openhearted demeanor might have potential. In fact, he has already e-mailed Hung samples of gag movie posters in which his wife digitally substituted Hung's cheerful face for the faces on "The Last Samurai" and "The Lord of The Rings: The Return of the King" advertisements.

Unexpected notoriety

The annals of entertainment are riddled with the famously thwarted, from Rodney Dangerfield to Wile E. Coyote to the Chicago Cubs. But the combination of high-speed Internet, which has made downloading and Web posting exponentially easier, and the proliferation of reality TV shows, has turned rejection and ridicule into a show-business staple.

The first season of "Survivor" generated notoriety for virtually every losing contestant, setting the pattern for every reality show since. Most recently, the Donald Trump workplace derby "The Apprentice" made a household name of the fast-talking-but-failed Sam Solovey, who was eventually fired by Trump.

After Hung's performance, online postings compared his act not only to those of his fellow contestants, but also to a 1996 Internet icon, a Canadian boy whose filmed romp with a pretend light saber became a widely debated bootleg download known as "Star Wars Kid."

Warwick of "American Idol" said such backhanded fame has become part of the reality show formula. "It's the nature of the programs," he said. "There are always a number of people who become minor celebrities during the show, who are there for all the wrong reasons but somehow it works."

Warwick said he knew as soon as he saw Hung that "anti-celebrity" would find him. "You knew when you met him — he was so honest and open and straight and 'get-out-there-and-give-it-a-go' in his demeanor. "When he told the judges, 'I gave my best,' he was right. It's a commendable philosophy and not many people have it. I love him! It's just a shame he was no good!"

But celebrity, Hung said, was the last thing he sought when he heard a news report about the auditions across the bay in San Francisco last autumn and impulsively decided to try out. Sitting in a campus dining commons, his bright yellow backpack and matching rain jacket on the seat beside him, he said he didn't even tell his parents about the audition, which was inspired when some fellow students heard him sing and pushed him to enter a dormitory talent contest. He won first prize.

"It was just going to be kept to myself, and nobody know about it," said the student, who moved with his family to Van Nuys when he was 11 and graduated from high school in Sun Valley. "I have sung karaoke since I was 10 or 11 years old, and I just wanted to see, you know, where am I at?"

The tryouts took two days, he said, far longer than he'd expected. "I sang 'Two Worlds' from 'Tarzan' by Phil Collins, but then I had to sing two songs. I was thinking maybe it would be Elton John's 'Can You Feel the Love Tonight' but then a producer told me I might have better luck with 'She Bangs,' "

"I know I am just a beginner," he said, adding that he was only "a little" angry when the notorious Simon Cowell cut him off, declaring, "You can't sing, you can't dance, so what are you going to say?" Hung said it came from the heart when he replied: "I already gave my best and I have no regrets at all."

It wasn't until months later, when he saw his clip anchoring an "American Idol" promotion that what he had done began to sink in.

"I was just, 'Wow. That's me right there.' Shocked," Hung said, blushing. "I didn't even have emotions until I saw the audition, and then I felt, 'Oh. I'm definitely not ready to go to Hollywood.' "

Then the e-mails started arriving from strangers, and Hung, curious, punched his name into a search engine. Up came the blogs and the websites, the downloads and remixes.

"All these people," Hung marveled, "and a lot saying I was very courageous and that I did great on 'American Idol.' And some didn't have so much respect for me. Some were kind of mean, actually."

Since then, he said, he hasn't been sure whether to distance himself from his moment or embrace it. Chin has offered to be his manager and do a merchandising deal, but Hung has resisted, both said.

Returning to normalcy hasn't been easy. A radio station called the other day at 4:30 a.m., and he gets stopped on campus now by autograph seekers. In the dining room, he sat at an isolated corner table as fellow students rubbernecked and pointed. Members of his Bible study group admonished him for creating too much of a distraction, and he said he hasn't been back since.

"One good thing is that I am meeting more girls than usual," Hung said, brightening. "I don't know who they are, but they are much more friendly with me, so oh well."

Notwithstanding the online campaign to get him back on "American Idol," if only as a guest commentator, Hung said he would be reluctant to be seen on television any time soon. He has, however, been taking voice lessons, he said, and a music teacher has told him that with work, he could acquire a more American accent.

"I still plan to continue singing," Hung said, grinning, and as it turns out, he already has a couple of gigs lined up in smaller venues.

"I have been asked to perform after the Cal men's volleyball game later this month," he noted. And his old dormitory has invited him back to open-mike night next week.
Today's Top News
Top Life News

Zoellick: US can't close door to Chinese goods




US, N. Korea bilateral contact lasts one hour




Capital, Hebei in row over river water use




Referendum provokes rise in tension




Import of two Isuzu autos suspended




Farmers to get direct subsidies from the state