Tutu blasts 'immoral' Iraq war
(Agencies)
Updated: 2004-02-17 14:08
U.S. President George W. Bush and British Prime Minister Tony Blair should apologise for waging "an immoral war" against Saddam Hussein's Iraq, Archbishop Desmond Tutu said in a speech.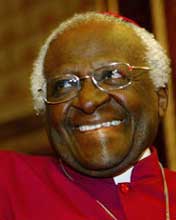 Peace prize winner Desmond Tutu [AFP]

In an evening lecture delivered in Westminster, central London, the Nobel laureate said Bush and Blair would reap a revival in credibility if they apologised for waging a war that left the world "a great deal less safe".

"How wonderful if politicians could bring themselves to admit they are only fallible human creatures, and not God, and thus by definition can make mistakes," Tutu's speech said, according to an advance copy.

"Unfortunately, they seem to think that such an admission is a sign of weakness," Tutu said.

"Weak and insecure people hardly ever say 'sorry'. It is large-hearted and courageous people who are not diminished by saying, 'I made a mistake.'

"President Bush and Prime Minister Blair would recover considerable credibility and respect if they were able to say, 'Yes, we made a mistake'."

Tutu was awarded the Nobel Peace Prize in 1984 for his non-violent struggle against apartheid in his native South Africa.

In December, Tutu said Saddam Hussein, currently in US hands, should be put on trial before the International Criminal Court in The Hague on the understanding that he is innocent until proven guilty.

In his speech Monday, Tutu drew a link between Bush's doctrine of pre-emptive attack on rogue regimes and the president's support of capital punishment when he was governor of Texas.

"It may not be fanciful" to see a connection between the executions and the United States's "belligerent militarist policies", Tutu said.

"An immoral war was thus waged and the world is a great deal less safe place than before. There are many more who resent the powerful who can throw their weight about so callously and with so much impunity."

Answering questions about the wider Middle East conflict after the speech, Tutu insisted that violence was not the answer.

"One of the things we learned in South Africa is that you will never gain true security from the barrel of a gun," he said

Peoples like the Israelis and Palestinians should be able to "reach out to one another across this chasm", Tutu added.

"If it can happen in South Africa then, for goodness sake, it must be able to happen everywhere else."
Today's Top News
Top World News

Bank of China floating huge bond offering




Moscow police stop raiding Chinese stalls




Senator Kerry blasts Bush, leads in primary




Chinese diplomats in Iraq to reopen embassy




Trade surplus to fall this year




U.S. navy jet fighter F18 is for sale on eBay