U.S. navy jet fighter F18 is for sale on eBay
(Agencies)
Updated: 2004-02-17 12:56
You can now have your very own Navy F/A-18A Hornet jet fighter - but some assembly may be required.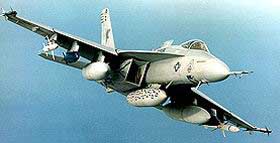 The price for the jet, which formerly belonged to the Navy's Blue Angels aerial demonstration team, is just over $1 million on the auction firm eBay, or about $9 million for a buyer who wants it assembled, painted and certified ready-to-fly.
Only legal U.S. residents can bid. The auction is scheduled to end Thursday.
An F/A-18 in 1997 cost the military US$28 million, according to the Blue Angels' official Web site.
Mike Landa, of Landa and Associates, the Washington state brokerage that has listed the fighter on the Internet auction service, told The Virginian-Pilot that the jet is in parts and came out of military service in 1994. Landa wouldn't identify the owner, but said he came by it legally.
"This thing obviously slipped through the system somehow," Landa said
The FBI came out to visit Landa after he put the jet up for bidding. They wanted to know "what are you selling here," he said. "They wanted to have the scoop on it."
Landa said he has no doubt that someone will surface to claim the Hornet. The jet's model can fly about 1,400 mph and climb 30,000 feet in a minute.
Today's Top News
Top World News

CCTV restructuring proof of media reform




Bank of China floating huge bond offering




Jilin governor apologizes for fatal blaze




Moscow police stop raiding Chinese stalls




Senator Kerry blasts Bush, leads in primary




U.S. navy jet fighter F18 is for sale on eBay