Australian teen's death sparks riots
(Agencies)
Updated: 2004-02-17 09:34
Rioters set fire to a train station and pelted police with gasoline bombs in an Aboriginal ghetto in Sydney on Monday during a nine-hour street battle that began after a teenager died, allegedly while being chased by officers.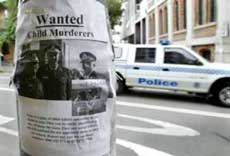 A police car drives past a poster taped to a power pole which accuses police of murder, in the inner Sydney suburb of Redfern on February 16, 2004. [Reuters]

The overnight rioting in the Redfern neighborhood, an Aboriginal ghetto of Australia's most populous city, left 40 officers injured and highlighted continuing tensions between authorities and the nation's original inhabitants.

The street battle earlier Monday followed the death of a 17-year-old Aborigine, Thomas Hickey, who was impaled on a fence when he fell from his bicycle. His mother claimed officers were chasing the teen, an allegation that police deny.

"It's got to stop, the way they treat our kids," Gail Hickey said. "They treat our kids like dogs ... they manhandle them."

Hundreds of police in full riot gear doused rioters with high-pressure water hoses during the fighting.

The hospitalized police officers mostly suffered broken bones while one was knocked out after being hit by a flying brick. All but one had been released by Monday afternoon. There was no immediate word on injuries to rioters.

Four people were arrested and charged with involvement in the fighting. Waites said police had identified other suspected rioters and expect to make more arrests in coming days.

On Monday night, a small group of Aborigines watched by a handful of police officers was gathered at the scene of the riot but there was no sign of trouble.

New South Wales state political leader Premier Bob Carr ordered an investigation into the cause of the riot and said the state coroner would probe Hickey's death and any possible police involvement.

In the overnight rioting, about 100 attackers set fire to Redfern railway station, torched a car and smashed windows.

"They burnt out one vehicle and they in fact were throwing Molotov cocktails both at police and at Redfern railway station during the course of the riot," assistant commissioner Bob Waites said.

Television images showed young men surrounding a police patrol car and slamming it with bricks. It was not clear if there were officers in the car at the time.

Waites said rioters stockpiled garbage bins full of paving stones and beer bottles to throw at police.

Aboriginal community leader Lyle Munro said anger in the community had been simmering long before Hickey's death.

"These young people are very, very upset about what happened to this young man, and they're very upset about what's happening to their young friends on a continual basis," Munro told Sydney radio station 2UE. "It was a preventable death, like most of the deaths of young Aboriginal people today."

Munro accused police of harassing people who live in a squalid grid of near-derelict houses known as "The Block."

"This is an everyday occurrence — the harassment and intimidation of our young people," he said. "You could interview every Aboriginal kid down there that comes from The Block, that comes from this area in Redfern in particular, and the majority will tell you to your face ... that they've all been bashed by the police."

Aborigines make up 400,000 of Australia's 20 million people. They are the poorest and most imprisoned members of society.

The houses in The Block were bought for Aborigines in the 1970s with a grant from the federal government in an attempt to alleviate homelessness and other social problems among Sydney's Aboriginal population.

However, the streets quickly degenerated into a garbage-strewn slum with high crime and drug abuse rates. Authorities are now redeveloping the area, but its social problems remain.

State opposition leader John Brogden said he would knock down The Block if he were in power.

"The fact that 40 or 50 police were injured whilst they stood there and copped it from young Aboriginal thugs and others is an unacceptable position going forward," Brogden said. "I'd bring the bulldozers in because I think allowing this to happen every couple of years, which is what's going to happen, will never fix the problem."
Today's Top News
Top World News

Bank of China floating huge bond offering




Moscow police stop raiding Chinese stalls




Chinese diplomats in Iraq to reopen embassy




Trade surplus to fall this year




Sony sings tough song in copyright row




First bird flu reported in northeast China