Gender bias affects male kindergarten teachers
(China Daily)
Updated: 2004-02-16 23:40
One year ago, Hai Jun was hogging media attention for being the first male kindergarten teacher in Shenyang, capital of Northeast China's Liaoning Province. Earlier this month, he quit.
Hai is not saying why he resigned, but many suspect that his departure was caused by traditional bias against male pre-school teachers, which has forced many of Hai's male colleagues to leave.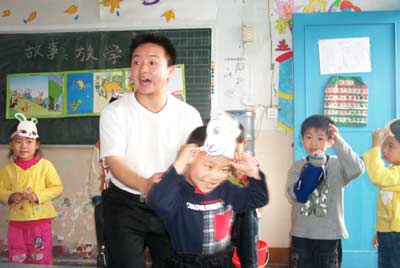 Tong Wei plays with his students at a kindergarten in Wenling, East China's Zhejiang Province. It is believed that male teachers can play a positive role in nursery schools. [newsphoto]
"It seems that few of these young graduates can withstand the bias no matter how enthusiastic they were in the beginning," says Wang Ying, deputy head of a Shenyang-based nursery school.
But even as male teachers find the going tough, there is a clamour for them in many places, such as South China's Guangdong Province. Some kindergartens in the province, convinced that a male presence would be healthy, beg fathers to volunteer in their schools.
Statistics
According to statistics released by the Guangzhou education department, only 14 out of 28,422 kindergarten teachers in the city were men at the end of last year.
It is generally agreed that having a male teacher is conducive to developing a child's character and balance women-dominated kindergartens.
Not a few parents complain that their boys behave like sissies since they imitate their teachers.
A 1.84-metre-tall male kindergarten teacher surnamed Ma says the kids love him; and that he has won much acclaim from both parents and female colleagues.
"Male teachers play an important role in cultivating children's boldness and help develop a strong will," says Wang, referring to the growing demand for male teachers.
However, that is one area where males fear to tread in China. Traditionally men were considered careless, clumsy and not suited to take care of children.
"Fundamentally, it's the traditional concept that has forced these men to give up," says Sun Hongyan, deputy director of the Beijing-based Research Institute for Children.
Jobs require patience
Such jobs are mostly taken on by women, since it often requires more patience and meticulousness, which men are considered incapable of, Sun adds.
Xiao Tian, a former male teacher of a Beijing-based nursery, says that, owing to the influence of traditional ideas, he was only assigned some odd jobs even though he was professionally trained as a kindergarten teacher. So he quit the job only a few months later.
Peer pressure is another reason stopping young men.
"Most of them are considered feminine," responds Hao Jinmin, a college student, when questioned what his concept of a male kindergarten teacher was.
And he adds that he would never be one because "dating might be a problem."
Another reason for the lack of interest is low salaries and poor welfare benefits, says Sun.
According to Ma Chao, 22, a teacher at Beijing's Xinzhongjie Kindergarten, 11 male trainees, including himself, graduated from a vocational high school in 2002 after studying for three years and majoring in preschool education. They were each assigned to different nurseries in the city.
"But now, only five of them are still in the job; the others gave up because they are unhappy with the low salary," he says.
On top of that, many nursery schools in metropolises such as Beijing, Shanghai, and Guangzhou fail to attract graduates because kindergarten teachers are not considered professionals badly needed by the city.
Experts suggest that society be more appreciative of kindergarten teachers; and their salaries and benefits be raised.
"And above all, the traditional bias in people's minds have to be changed," adds Sun.
Today's Top News
Top China News

CCTV restructuring proof of media reform




Bank of China floating huge bond offering




Jilin governor apologizes for fatal blaze




Moscow police stop raiding Chinese stalls




Senator Kerry blasts Bush, leads in primary




U.S. navy jet fighter F18 is for sale on eBay