Vodafone under pressure over AT&T
(Agencies)
Updated: 2004-02-16 10:36
Vodafone Group, the world's largest mobile phone company, is expected to come under mounting pressure next week to reveal whether it has bid in an auction for U.S. rival AT&T Wireless.
The UK-based group, which up to Friday's deadline said only that it was analyzing whether an offer would be in investors' interests, says it makes little commercial sense to show its hand in an expected bid battle for the third-largest U.S. mobile phone group.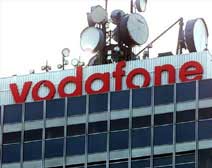 Vodafone is said to be considering a bid of $35 billion for AT&T. [AP/File]

One source familiar with talks has said Vodafone had been considering a bid of about $35 billion, or $12.50-per-share, for AT&T Wireless Services, which put itself up for sale on January 22 after a series of poor results.

Prompted by concern that Vodafone was poised to launch a knockout bid, rival bidder Cingular Wireless -- the number two U.S. mobile group owned by SBC Communications and BellSouth -- sweetened its initial $30 billion offer on Friday, sources close to talks said.

The Sunday Times in an unsourced story said the U.S. group had increased its cash offer to around $35 billion.

All eyes are on AT&T Wireless, which is evaluating bids over the long U.S. bank holiday weekend. The U.S. group has given itself until February 29 to reach a final decision, although it could extend the deadline.

But market speculation was rife over the weekend that its financial adviser, Merrill Lynch, was already asking for higher offers and that a final decision could come as early as Tuesday.

"They (AT&T Wireless) are obviously going to ask themselves whether they should try and negotiate for more,'' said one source close to talks.

"But it's always in the interest of everybody to do it as quickly as you can, because there's so much uncertainty. It's not good for AT&T Wireless and it's not good for the bidders.''

Testing Sarin's mettle

While some Vodafone investors remain unconvinced about the merits of a bold offer, a growing number are braced for Chief Executive Arun Sarin to fight for an asset that would give the group long sought-for control of a company in the world's most powerful economy and bring its brand across the Atlantic.

Vodafone's camp has been frustrated that auction tactics have prevented it from arguing its case to investors, who have been skeptical of an earnings-dilutive takeover that could spell the return to empire-building seen under former CEO Chris Gent.

The market is split on whether Vodafone, which would have to sell a lucrative 45 percent stake in top-ranked Verizon Wireless, can justify out-gunning Cingular. Analysts have said the U.S. group could fund an extra two-dollar-per-share bid sweetener from the expected cost savings of merging two U.S. networks.

Sarin, a 49-year-old U.S. citizen with an 18-year industry track record, has been in the top job for just six months and already faces the toughest call of his tenure.

The former chief operating officer of U.S. mobile phone group AirTouch, which he helped sell to Vodafone in 1999, knows he must convince shareholders that Vodafone's strategy is built on sound financials rather than ambition.

AT&T Wireless is losing both money and customers. The group reported a fourth-quarter loss and in January alone lost nearly four percent of its customers and saw its operating income fall more than 20 percent from a year ago, sources close to the situation gave said.

NTT Docomo, which owns 16 percent of AT&T Wireless, on Friday decided against submitting a bid after determining it lacked the staff or bulk to realistically acquire and operate a company as large as AT&T Wireless, one source said.

Hopes of a bidding war sent AT&T Wireless shares to 12-month highs of $11.98, valuing the group at $32.56 billion on Friday.
Today's Top News
Top World News

Two fires in China kill 92, injure 75




China jump-starts lunar project of US$170m




Bo Xilai named as China's commerce minister




Chinese doctors separate Siamese twins




Valentine's Day: Spouse faithfulness questioned




China to compensate farmers affected by bird flu