Iraq's No. 41 on 'most wanted' list captured
(Agencies)
Updated: 2004-02-16 08:53
Iraqi police captured a former leading member of Saddam Hussein's government Sunday, No. 41 on Washington's "most wanted" list.
"What is special about this operation is that the Iraqi police alone conducted it. It is a distinguished operation which should be a source of joy for Iraqis because they now have police they can depend on," Iraq's Deputy Interior Minister Ahmed Kadhim said.
He said police had arrested Muhammad Zimam Abd al-Razzaq al-Sadun, a senior member of Saddam's toppled Baath Party.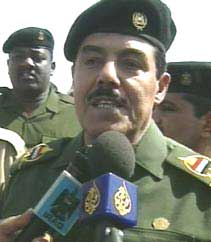 Al-Razzaq, a senior member of Saddam's toppled Baath Party. [CNN]

"We are interrogating him now, we will see what we'll do later," Kadhim said when asked if Sadun would be handed over to the U.S. military.

Guerrillas are mounting increasingly bold raids against U.S. -backed Iraqi security forces with the apparent aim of disrupting U.S. plans for a handover of power from U.S. occupation forces to Iraqis, set for June 30.

In Kuwait, Iraq's leaders and six neighboring states called for a central role for the United Nations in the transfer.

The United Nations, which sent a mission to Iraq last week, is trying to resolve a dispute between Iraq's majority Shi'ites, who want elections before the handover, and Washington which says there is no time to organize them.

The U.S. administrator in Iraq, Paul Bremer, said he was awaiting the U.N.'s recommendations on the handover, but insisted it must come by June 30.

However, he showed some willingness to speed up the election timetable. Washington's original plan was to hand power to an interim administration, pending elections in early 2005.

"If we can do it sooner and have it be legitimate and if the U.N. and we agree that that can be done, then that's not a problem if it's the end of (this) year or early January," he said.

The foreign minister of Iraq's U.S.-backed Governing Council said it would be extremely hard to hold elections before a mid-year handover.

"This is the one opportunity and we don't want to squander or spoil it. We must handle it with care, and we must have a fair and credible election so that people don't challenge the results of the process," Hoshiyar Zebari said after the regional summit in Kuwait.

ARREST

Since the United States launched its war in March to oust Saddam and end his 24-year rule, 44 of 55 Iraqis wanted by the United States have been captured or killed.

Saddam's former lieutenant, Izzat Ibrahim al-Douri, No. 6 on the list, is the highest-ranking official still at large.

The former Iraqi leader, No. 1 on the list, was captured in December.

Zebari said Sunday Iraq would ask the United States to hand Saddam over after the transfer of power and to change his prisoner of war status.

"Yes, we will demand changing his status and handing him over to Iraqi justice to put him on trial," he said.

The United States gave Saddam POW status last month, throwing some doubt over his fate after the handover.

The POW status means the former dictator, accused of sending thousands of Iraqis to mass graves, could have more rights than a war criminal.

Iraq's Governing Council has said Saddam would be tried in a special tribunal by Iraqi judges.

ATTACKS

U.S. forces have long blamed insurgents loyal to the deposed Iraqi leader for deadly violence in Iraq, especially in the Sunni triangle where Saddam's core of support was based.

But recently they said foreign fighters had been recruited to try to destablise Iraq as it moves toward sovereignty.

A computer disc purportedly made by a Jordanian the United States said has links to Osama bin Laden, urged militants to come to counter improving Iraqi security.

"With the spread of the army and police, our future is becoming frightening," said the letter, purportedly written by Abu Musab Zarqawi, and released by the United States.

Saturday, scores of gunmen stormed a police station and two other buildings in Falluja, 50 km (30 miles) west of the capital, killing 22 police and a civilian. Police said 20 to 85 prisoners escaped.

Assailants fired automatic weapons at a U.S. military patrol in western Baghdad Sunday, damaging a civilian vehicle traveling with the patrol, a U.S. military spokesperson said.

There were no immediate reports of casualties.

Shortly afterwards a roadside bomb blew up close to a U.S. convoy. Residents said U.S. soldiers opened fire indiscriminately, wounding five people. There was no immediate comment from the military.
Today's Top News
Top World News

Two fires in China kill 92, injure 75




China jump-starts lunar project of US$170m




Bo Xilai named as China's commerce minister




Chinese doctors separate Siamese twins




More netizens hook into online games




Voice from the top: No mercy for corruption