Chinese doctors separate Siamese twins
By Guo Nei (China Daily)
Updated: 2004-02-16 08:11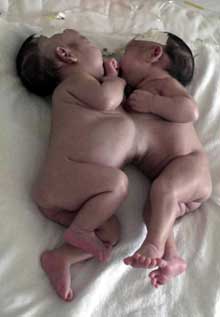 Bao Bao and Bei Bei

There was nothing but lots of rest and good news for this little pair Sunday night, after being successfully separated on Valentine's Day in North China's Hebei Province.

The 44-day-old girls, named Bao Bao and Bei Bei, are being treated at the No 1 Hospital Affiliated to Hebei Medical University in Shijiazhuang, the provincial capital.

Zhang Yuping, director of the hospital's heart disease department, said there was more concern for the wellbeing of little Bei Bei at the moment, as she has inborn heart disease.

Zhang said nearly 80 per cent of newborns with the diseases die when they are about 12 months old if they do not undergo surgery to fix the problem.

Due to the procedure to separate the Siamese twins, Bei Bei's operation to combat the disease cannot be performed in the immediate future.

Her heart procedure will be carried out when she has recovered from the initial operation, Zhang added.

The twins were joined at the chest and abdomen. Their livers, ribs and midriff were almost completely linked.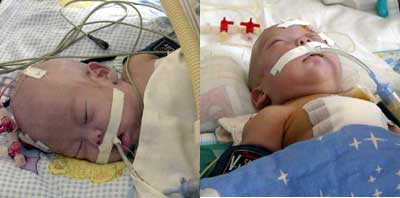 Bao Bao and Bei Bei after the operation. [newsphoto]
The operation to separate the girls took more than three hours. The hospital performed the procedure and will care for the babies for free.

Today's Top News
Top China News

CCTV restructuring proof of media reform




Bank of China floating huge bond offering




Jilin governor apologizes for fatal blaze




Moscow police stop raiding Chinese stalls




Senator Kerry blasts Bush, leads in primary




U.S. navy jet fighter F18 is for sale on eBay