Valentine's Day: Spouse faithfulness questioned
(Xinhua)
Updated: 2004-02-16 10:48
Valentine's day, originally a sweet time for lovers, has turned into a time to investigate marital faithfulness for some suspicious wives and husbands in China, who hire people to find evidence of extramarital affairs.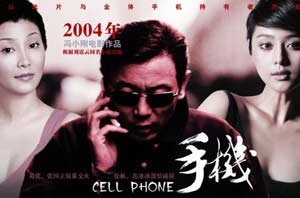 Director Feng Xiaogang's `Cell Phone' at the end of 2003 tackles the impact of new technology on modern relationships, especially that between spouses. [chinadaily/file]

The Wanma Law Firm based in Hangzhou City, east China's Zhejiang Province, saw a peak again this year several days before Valentine's Day, with more married asking for help investigating partners' fidelity.

Xu Min, Wanma's director in charge of such service, said male customers have risen from the previous 30 to 40 percent of the total, but refused to give the specific number because of the delicacy of the business.

Cases accepted by his firm show that husbands under suspicion were usually beyond 35 years old while target wives were often between 30 to 35.

"The customer group has expanded from wealthy bosses to ordinary people with an average income, which now take up 70 percent of the total," Xu said, noting each investigation takes 7 to 10 days and costs about 20,000 yuan (US$2,418), five to six times an ordinary person's monthly pay.

Though the newly-emerged business is thriving and highly profitable, private investigators are still reluctant to accept such cases due to the toil of 24-hour catlike tailings and the risk of being beaten up if discovered by some vigilant spouses under investigation.

Some unmarried young people involved in such investigations have lost their confidence in marriage.

"The results confirm over 80 percent of the surveyed have extramarital affairs," Xu said.

The love affairs outside marriage have stirred loyalty crises among some Chinese couples in recent years. Suspicious wives and husbands find it a good opportunity to catch their spouses with their other lovers on Valentine's Day, which will win them an upper hand in dividing property in divorce, if necessary.

Last year, Beijing saw 53,000 couples divorced and Shanghai had over four couples out of every 1,000 divorced, the highest divorce rate in the country and 20 times more than 20 years ago.

Wu Qiantao, an ethics professor with the People's University of China, considered the loyalty crisis a result of weakening sense of family responsibility.

"Great changes have taken place in people's mentality in the past two decades since China carried out the reform and opening up policy," he said.

"Many Chinese have misunderstood the Western style of romance. The swelling self-centered values in today's utilitarian society also makes people more willing to indulge in their own emotions rather than focusing on their family duties," Wu said.

The doubt over marital fidelity can also be traced to the increasing cases of paternity tests recently reported by the Jiangsu Provincial Hospital in east China.

In the week following the traditional Spring Festival ending on Jan. 28, the paternity test center under the hospital received nearly 20 families requiring a DNA check.

Since its establishment in May 2001, the center has handled some 300 such cases and is expected to accept 500 cases this year alone.

Dr. Su Enben with the center revealed that over 90 percent of applicants were suspicious fathers and the majority of them are wealthy people as well as migrant rural workers, who are usually away from home for long lengths of time to take up urban jobs.

Rich men having kids with their mistresses wanted to confirm the blood relationship so that they could bequeath property to the kids securely, Su said.

Many migrant rural workers also doubted the fidelity of their wives, thinking a DNA test would be more accurate than just judging from the physical resemblance between them and their children, he said.

Though 85 percent of the tests have confirmed the legitimacy of the kids, experts still consider it a reflection of unstable family relationships.

The majority chose divorce after the kids were found to be not their own. "It's understandable. It shows they value the pureness of marriage and their choice should be respected," said Li Yinhe, an expert on marriage problems with the Chinese Academy of Social Sciences.

"But kids are left as the last and bitterest victims of the waning loyalty to marriage," Li said.
Today's Top News
Top Life News

Zoellick: US can't close door to Chinese goods




US, N. Korea bilateral contact lasts one hour




Capital, Hebei in row over river water use




Referendum provokes rise in tension




Import of two Isuzu autos suspended




Farmers to get direct subsidies from the state