Hope fades for Moscow pool survivors
(Agencies)
Updated: 2004-02-16 08:51
Hope is fading for possible survivors of a roof collapse in a water park in Moscow which has killed at least 26 people and injured 110.
Saturday's accident took place at the Transvaal AquaPark in the city's southwestern suburbs and caused panicked visitors to rush out of the building in their bathing suits.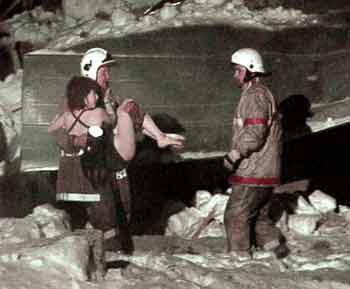 A rescuer carries a child found in the debris of the Transvaal water park collapsed roof, Moscow, late Saturday, Feb. 14, 2004.[Reuters]

Some Russian media reports said the collapse may have been caused by heavy snow which has blanketed Moscow in recent days.

"The reason for the collapse must be established," Moscow Mayor Yuri Luzhkov said. "Our preliminary evaluation shows that there was no explosion inside the building. Nonetheless, the specialists will have to investigate this."

By midmorning Sunday, 23 bodies had been pulled from the rubble, and one victim died in a hospital, Emergency Situations Minister Sergei Shoigu said, according to the Interfax news agency.

Andrei Seltsovsky of the Moscow city health department earlier told The Associated Press that three of the dead were children and 19 other children had been hospitalized. A child's birthday party was being held in the pool area when the roof collapsed, Moscow police spokesman Kirill Mazurin told AP.

About 800 people were in the water park complex at the time of the collapse, which occurred about 7:30 p.m. (1630 GMT). There were 352 in the pool area, Emergency Situations Ministry Viktor Beltsov told AP.

More than 80 people are being treated in hospital and at least 10 others are still missing, said CNN correspondent Ryan Chilcote.

"Officials are hopeful there will still be people found alive under the rubble," Chilcote said.

Roman Yazymin, 29, was sun-tanning in a solarium on the upper floors of the complex when he heard a loud noise and the crash of shattering glass.

"It wasn't an explosion, but the noise of metal collapsing," he told AP. "Everything was in blood."

The complex, which opened in 2002, was designed by a Russian architectural firm and constructed by a Turkish firm, Kocak, according to Echo of Moscow radio.
Today's Top News
Top World News

Careers, life chosen over kids by China's DINKs




Two fires in China kill 92, injure 75




China jump-starts lunar project of US$170m




Bo Xilai named as China's commerce minister




Chinese doctors separate Siamese twins




Valentine's Day: Spouse faithfulness questioned