Valentine kisses, guns and emails
(Agencies)
Updated: 2004-02-15 10:15
An amorous Italian who laid claim to the world record for non-stop kissing had to receive oxygen after his 31-hour 18-minute St Valentine's marathon.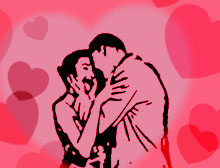 The couple, who staged the breathtaking smooch, were not the only ones to kiss their way into the record books.
In the Philippines 5,122 couples lined up to kiss for at least 10 seconds to celebrate the day of love.
Thousands of onlookers cheered as the couples, stretched out along Manila Bay, locked lips on the stroke of midnight on Friday.
"Some wouldn't let go," Manila city spokesman Armand Sebastian said.
The kissathon beat the previous world record of 4,445 couples set last month in Santiago in Chile, he said.
Organisers of the Italian event in northern Vicenza said the loved-up couple had beaten the previous non-stop kissing record by 18 minutes and 33 seconds.
But when they detached on Friday night, doctors had to give the 31-year-old man oxygen. The 30-year-old woman was said to be in fairly good shape.
Italy, the land that gave the world St Valentine, saw more passion in the capital Rome when 1,700 couples, most of them gay, kissed each other in the historic Piazza Farnese.
The kiss-in was held during a demonstration to demand the same rights for gays as married heterosexual couples.
In San Francisco gay couples rushed to get married over the Valentine's Day weekend after a judge refused to stop the ceremonies in defiance of California state law.
"We've waited 13 years for this," said Wendy Higgins-Goodell of she and her partner Tristan.
Guns and roses
Valentine's Day had an altogether different flavour in Texas where one Dallas church celebrated by asking people to trade guns for roses.
The First Presbyterian Church said anyone handing in a gun would get $50 which it suggested could be spent on candy or flowers.
"We are not trying to disarm Cupid of his bow and arrow, but provide another meaningful opportunity for individuals to show their affection for their families by making their homes safe this Valentine's Day," said Bruce Buchanan, a pastor at the church.
The Valentine's Day celebration was to be overseen by armed police.
'WUBMV?'
Valentine's celebrations are banned in some parts of the Middle East. But in Iran, the young found ways to sidestep police crackdowns on the Western lovers' day.
Last year moral police closed or fined some gift shops and confiscated decadent Western merchandise.
But many shopkeepers were undeterred.
"We have been ordered by police not to display any gift with the word 'Valentine' on it, but heart-shaped ornaments are not problematic," said one shopkeeper, wrapping gifts in shiny paper.
In America, millions were turning to the Internet to buy their presents.
An online tracking firm in California said Web sites specialising in gifts and flowers had nearly trebled from this time last year.
Brits were also using new technology to express their love.
A record 85 million text messages -- seven million more than last year -- were due to be sent, the Mobile Data Association said. Many will ask: "WUBMV?," text shorthand for "will you be my Valentine?"
Couples in Britain were expected to spend a staggering 2.36 billion pounds ($4.46 billion) on cards, red roses and candlelit meals, according to Sainsbury's Bank.
The ultimate extravagance appeared to be in Scotland, where a hotel was offering a romantic weekend break for 17,000 pounds (about $32,000) -- a deal that included a bath filled with pink champagne and a personal chef to cook breakfast in bed.
Today's Top News
Top Life News

Zoellick: US can't close door to Chinese goods




US, N. Korea bilateral contact lasts one hour




Capital, Hebei in row over river water use




Referendum provokes rise in tension




Import of two Isuzu autos suspended




Farmers to get direct subsidies from the state