Hundreds of gays rush to wed in San Francisco
(Agencies)
Updated: 2004-02-14 16:27
A judge on Friday refused to stop hundreds of gay couples from getting married at San Francisco's City Hall in defiance of California state law, thus guaranteeing that the weddings would continue into the Valentine's Day weekend.

Joy Galloway (R) and Keltie Jones (C) are married by Jim Illig, Deputy Marriage Commissioner, in San Francisco's City Hall, California, February 13, 2004. San Francisco officials married a steady stream of gay and lesbian couples in a "first-in-the-nation" move that defies state law recently passed by voters calling marriage a union of man and woman. [Reuters]
State Superior Court Judge James Warren said he could not issue a temporary restraining order to halt the same-sex marriages because there was not enough evidence presented showing that immediate damage would be done by allowing them.
He added that the lawsuit brought by the anti-gay-marriage Alliance Defense Fund required a 24-hour notice to the San Francisco attorney's office, which was not given.
Warren emphasized he did not rule on the merits of the case, which ADF attorney Robert Tyler called an example of "municipal anarchy." The court is scheduled to meet again on Tuesday.
Hundreds of gays have been lining up at City Hall since Thursday to wed in a direct challenge to a law passed by California voters in 2000 that restricted marriage only to heterosexual couples. The measure passed with support from about 60 percent of those who voted on the initiative.
San Francisco's new mayor Gavin Newsom decided earlier this week to lift a ban on same-sex marriages on the grounds that homosexuals have the right to wed under the state's equal protection clause.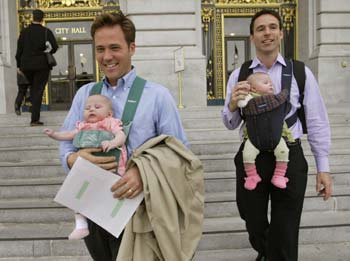 Eric Ethington (L) with twin Sophia and partner Doug Okun with twin Elizabeth, leave San Francisco's City Hall after receiving their marriage license, February 13, 2004.[Reuters]
Newsom's order made San Francisco -- long a pioneer in the gay rights movement -- the first place in the U.S. to grant marriage licenses to gays.
City officials estimated that hundreds of licenses were issued on Friday as couples streamed into city hall.
No US state, including California, allows gay marriage although a heated debate rages on over whether Massachusetts lawmakers should overturn a landmark state supreme court ruling allowing such unions.
The uncertainty over whether same-sex marriages will be blocked by the courts and what legal weight they may carry did not stop a giddy atmosphere from enveloping City Hall which became a wedding chapel filled with throngs of people carrying flowers, snapping photos and shedding tears.
"We found out from our friends yesterday afternoon and flew up from Los Angeles last night as soon as we could. We've waited 13 years for this," said Wendy Higgins-Goodell, 45, holding the daughter her partner Tristan, 34, gave birth to last fall via artificial insemination.

Today's Top News
Top World News

Bank of China floating huge bond offering




Moscow police stop raiding Chinese stalls




Chinese diplomats in Iraq to reopen embassy




Trade surplus to fall this year




First bird flu reported in northeast China




Survey: 4,450 US priests accused of sex abuse