Blast kills exiled Chechen leader
(Agencies)
Updated: 2004-02-14 10:58
Chechnya's exiled former president, wanted by Russia for terrorism and ties to al-Qaida, was assassinated Friday when a bomb blew apart his car as he left a mosque with his teenage son.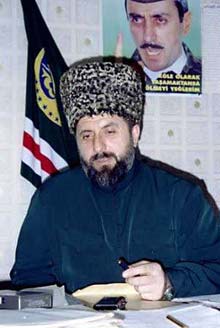 A file photograph shows Chechen leader Zelimkhan Yandarbiyev sitting in his office in Grozny under a portrait of the late President Dudayev in this January 19, 1997 file photograph. Yandarbiyev died on February 13, 2004 from injuries sustained when his car was hit by a blast in the Gulf Arab state of Qatar, police said. [Reuters]

Russia's security services denied any involvement in the death of Zelimkhan Yandarbiyev, 51. But a Chechen rebel group called the slaying "the latest bloody Kremlin crime."

Yandarbiyev's 13-year-old son was critically wounded in the 12:45 p.m. blast after prayers in the capital of Doha, according to an Interior Ministry statement and Hamad General Hospital.

The white SUV was demolished by the blast. A body lay wrapped in white and blue sheets as camouflaged security forces picked up debris from the bloodstained pavement.

"We are collecting evidence in order to reach the perpetrators," Qatar's chief of security, Mubarak al-Nasr, said on the Arab satellite channel Al-Jazeera, which is based in Qatar. Such bombings are almost unheard of in this quiet state with tight security.

The blast occurred one week after a bombing in a Moscow subway killed 41 people and wounded more than 100. President Vladimir Putin blamed Chechen rebels and took a hard line, saying, "Russia doesn't conduct negotiations with terrorists — it destroys them."

An aide to Yandarbiyev, Ibrahim Gabi, blamed the Kremlin and Russia's Federal Security Service, the FSB, for Yandarbiyev's killing, a pro-rebel Web site reported.

"There's no doubt that Lubyanka is behind this bloody terrorist act," the site quoted Gabi as saying, referring to the infamous Moscow building that was the headquarters of the Soviet KGB and now houses the FSB, its main successor. "In the 21st century, the Kremlin terrorists use bombs instead of ice-picks and poisoned umbrellas."

A pro-rebel Web site quoted Akmed Zakayev, an aide to separatist leader Aslan Maskhadov, as calling Yandarbiyev's death "the latest bloody Kremlin crime."

"There is not the slightest doubt that this despicable terrorist act ... is the work of the Russian special services," he said on the site, adding they are "settling accounts with the firmest supporters of Chechen independence."

Boris Labusov, a spokesman for Russia's Foreign Intelligence Service, another successor to the KGB, said his agency had nothing to do with the death, the ITAR-Tass news agency reported from Moscow.

Putin, who is expected to easily win Russia's March 14 presidential elections, has built much of his strong image on a firm refusal to negotiate with Chechen rebels.

In London, meanwhile, longshot Russian presidential candidate Ivan Rybkin said Friday he dropped from sight for five days after being lured to Ukraine for promised talks with Maskhadov about bringing peace to Chechnya, where Russia has been fighting an insurgency for most of the last decade.

Rybkin, once Russia's national security chief, said he was drugged while waiting for the meeting and now stands to stay in Britain for the rest of the campaign.

Anatol Lieven, a scholar at the Carnegie Endowment for International Peace in Washington, said Yandarbiyev could have been targeted by the Russian security services, by Chechen political rivals, or because of a business feud.

Lieven said Yandarbiyev has raised funds for use in Chechnya, but that it was unclear if he was important enough to be targeted by Russia.

Yandarbiyev, acting president of Chechnya in 1996-97, had been linked to the al-Qaida terror group. Russia had been seeking his extradition from Qatar, where he lived since summer 2000, accusing him of ties to kidnappers and terrorists.

Last year, the United Nations put Yandarbiyev on a list of people with alleged links to al-Qaida, which is blamed for the Sept. 11 attacks on the United States. Washington also put him on a list of international terrorists who are subject to financial sanctions.

Yandarbiyev was considered a key link in the Chechen rebels' finance network, channeling funds from abroad.

Last year, Putin accused the United States of holding clandestine talks with Yandarbiyev. He offered no evidence.

Al-Nasr said Yandarbiyev was living "a normal life" in Qatar and was not involved in political activities.

Yandarbiyev became vice president of Chechnya under separatist President Dzhokhar Dudayev. In 1996, he led the rebel delegation in peace talks with then-President Boris Yeltsin.

Russian forces withdrew from Chechnya in 1996 after a disastrous 20-month war, leaving the republic largely lawless and running its own affairs.

Moscow's troops swept in again in 1999 after Chechen-based militants launched raids into a neighboring region and after some 300 people were killed in apartment bombings that Russia blamed on Chechen separatists.

A poet and author of children's book, Yandarbiyev became one of the most prominent proponents of radical Islam among the Chechen rebels. He came in third in Chechnya's 1997 presidential elections, behind Maskhadov and the fiery rebel Shamil Basayev.

During the hard-line Islamic rule of the Taliban in Afghanistan in 1996-2001, Yandarbiyev opened a Chechen Embassy in the Afghan capital, Kabul, and a consulate in the southern city of Kandahar.

Chechen exiles said Yandarbiyev had maintained contact with other Chechens since coming to Qatar, but they claimed to have no knowledge of his involvement in any terrorism-related acts.

Akhmad Kadyrov, president of the Kremlin-backed Chechen government, called Yandarbiyev "the main ideologue of the separatists."

"He is guilty of everything that has happened," Kadyrov said, according to the Russian news agency Interfax.

Qatar recently has granted entry to a variety of Muslim politicians and militants, including Palestinian Hamas leaders, Algerian Muslim fundamentalists and officials of Saddam Hussein's regime.

The Qataris say they are adhering to Arab traditions of providing hospitality to guests and of offering sanctuary to refugees. However, the practice also serves to defuse anger at Qatar for allowing the United States to establish military bases in the Gulf sheikdom.
Today's Top News
Top World News

China discloses more evidence of "Eastern Turkistan" terrors




China to cancel car import quota in 2005




Locals move to prevent new bird flu outbreaks




All of Bush's military files released




Two more insurers to offer shares




Hyped love on Valentines's Day