All of Bush's military files released
(Agencies)
Updated: 2004-02-14 09:49
U.S. President Bush released all of his Vietnam-era military records Friday to counter Democrats' suggestions that he shirked his duty in the Texas Air National Guard, while a witness who said he served with Bush stepped forward to back his story.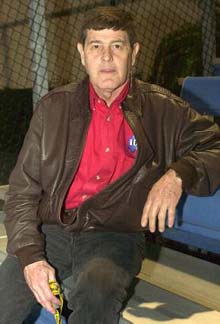 Retired Lt. Col. John ``Bill'' Calhoun is shown at the Daytona International Speedway in Dayton Beach, Fla., Friday, Feb. 13, 2004, where he is attending a NASCAR event. Calhoun, a retired Alabama Air National Guard officer, said Friday that he remembers George W. Bush showing up for duty in Alabama in 1972, reading safety magazines and flight manuals in an office as he performed his weekend obligations. [AP]

The papers detailed Bush's service in the Guard in Texas and his temporary duty in Alabama while working on a political campaign in the early 1970s. Democrats have questioned whether Bush ever showed up for duty in Alabama.

Administration officials said that they were confident that the more than 400 pages of personnel documents showed nothing new or troubling.

"We received the entire file this afternoon, and the president felt everything should be made public," White House press secretary Scott McClellan said. "There were some who sought to leave a wrong impression that there was something to hide when there is not."

Bush enlisted in the Texas Air National Guard at Ellington Air Force Base, Texas, on May 27, 1968 and became a pilot. He was placed on inactive Guard duty six months before his commitment ended at his request because he was starting Harvard Business School. He was honorably discharged.

While he performed most of his service in Texas, Bush transferred to an Alabama Guard unit in 1972 because he was working as the political director for the Senate campaign of Winton Blount, a family friend.

Reports differ on which months Bush was in Alabama, but generally, it is believed that he asked for permission to continue his duties at the 187th TAC Recon Group, Montgomery, in May 1972 and returned to his Texas unit after the November election. The White House says Bush went back to Alabama again after that.

There were no new documents about Bush's serving in Alabama. The last day he was paid for Guard duty was July 30, 1973. His last flight exam, however, was on May 15, 1971.

White House communications director Dan Bartlett said Bush's flying exam expired on his birthday, July 6, 1972. He did not take his next exam because "he was in non-flying capacity in another state" and knew he would be there for months.

"There was no need or reason for him to take a flying exam," Bartlett said, adding that allegations that he ducked the physical were "just outrageously false."

Medical records open for review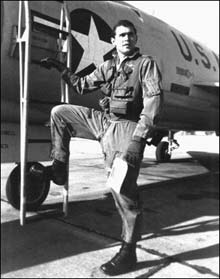 Undated photo shows U.S. President George W. Bush as a former Texas Air National Guard fighter pilot. [AP Photo]

NBC's David Gregory reported that White House officials were divided over whether to release the president's entire personnel record, fearing that reporters would be able to go "trolling for stories" unrelated to his service in the Guard. But in the end, they decided that they had to honor Bush's commitment in an interview last weekend on NBC's "Meet the Press" to open up all of his service record, officials said.

Bush's medical records — dozens more pages in all — were also opened for examination Friday by reporters in the Roosevelt Room, but that material was not being distributed publicly.

Those records documented that Bush was suspended from flying status beginning Aug. 1, 1972, because of his failure to have an annual medical examination.

His medical checks, from 1968 through 1971, show no signs of illness at the time except for a brief episode of hemorrhoid symptoms.

"Examinee denies loss of consciousness, motion sickness or other significant medical or surgical history," the examining physician concurred. All tests listed as performed, including an electrocardiogram, a chest X-ray and an ear test for altitude, came back normal. Neurological, psychiatric and other checkoffs were also normal, while blood tests showed no signs of infection.

Asked to describe his own health, Bush said at the 1968 exam: "I feel my health is in excellent condition."

Witness comes forward

Bush's service record, which has been an issue in each of his campaigns, resurfaced this year when Terry McAuliffe, chairman of the Democratic National Committee, said Bush had been AWOL — absent without leave — during his time in Alabama.

Democrats hope to undermine Bush's election strength on national security issues by contrasting his service in the Guard, where he was a pilot who did not see combat, with that of Sen. John Kerry of Massachusetts, the decorated Vietnam War veteran who is the front-runner for the Democratic nomination.

"Hopefully, these are all the documents," said Debra DeShong, a spokeswoman for the Democratic National Committee. "Each revelation of material from the Bush White House has raised more questions than it has answered. It remains to be seen if these newest documents will provide any answers."

Democrats have also questioned why the White House had not produced a witness who served with Bush in Alabama. But Friday, an officer with the Alabama Guard during that time came forward to say he remembered Bush carrying out administrative duties on weekends in the summer of 1972.

The man, Bill Calhoun, 69, of Atlanta, was a lieutenant colonel at Dannelly Air National Guard Base near Montgomery at the same Bush was posted there. Calhoun, whose name was supplied to The Associated Press by a Republican close to Bush, told the AP that Bush showed up for drills with the the 187th TAC Recon Group on at least six occasions.

Bush and Calhoun had been trained as fighter pilots, and Calhoun said the two would swap "war stories" and even eat lunch together on base.

"He was very aggressive about doing his duty there. He never complained about it," Calhoun said. "... He was very dedicated to what he was doing in the Guard. He showed up on time, and he left at the end of the day."

White House officials insisted that they did not put Calhoun up to making his statement, telling NBC News that he contacted Republican officials in Atlanta on his own.
Long absences
White House officials say Bush recalls serving both in Texas and in Alabama. The White House put out two sets of documents earlier this week to prove he was in Alabama.

The first batch was made up of pay and service records, and the second was a copy of a Jan. 6, 1973, dental exam, complete with a chart of Bush's teeth, that was performed when Bush was at Dannelly.

Those records showed long absences during Bush's final two years of service, a period in which he worked on a political campaign in Alabama. Democrats and other critics said the records were inadequate.

An ABC News/Washington Post poll released Friday said Bush was at a low point in public approval, his popularity depressed by questions about the war in Iraq, continued economic frustration and public interest in Kerry.

It said that Bush's overall job approval rating had fallen to 50 percent and that his rating for honesty and trustworthiness had fallen to 52 percent, down 7 points from late October.

Today's Top News
Top World News

China discloses more evidence of "Eastern Turkistan" terrors




China to cancel car import quota in 2005




Locals move to prevent new bird flu outbreaks




All of Bush's military files released




Two more insurers to offer shares




Hyped love on Valentines's Day