Hyped love on Valentines's Day
By Raymond Zhou (China Daily)
Updated: 2004-02-14 09:09
A young man, dressed elegantly, waits in the chilly night wind. He is shivering, yet excitement warms him. Bouquet in hand, he looks at the passing crowd, searching for that special someone who will be his Cinderella at the ball.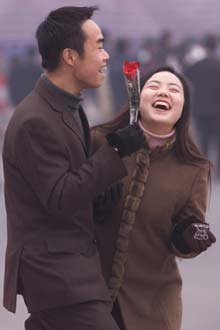 A couple of young lovers mark Valentine's Day with a single red rose, the classic symbol of the occasion. [newsphoto]


This will be a typical scene tonight, multiplied thousands of times across the nation's big cities. Love will be in the air, and the aura of romance will thicken to such an extent that cold weather can only serve to enhance the atmosphere.

Valentine's Day is for lovers. Yet it has not been always so as it is a relatively new holiday for Chinese - gaining ground quickly in the last decade. And it is mostly the young and the trendy that are propelling it into mainstream acceptance.

Imported holiday

Beneath the surface of a brand-new imported holiday are the cross-currents of cultural fusion and the power of commercial interests. Love can be pure and simple, but celebrating love takes a whole mechanism of sociological evolution and the support of myriad businesses.

Roses, chocolates, candlelight dinners. These are the images of Valentine's Day and these are what appeal to people in China, especially the young generation. The popularity of this holiday has confounded many an old-timer. However, citing Westernization as the sole driving force is somewhat simplistic.

The fact that it comes from the West certainly has a lot to do with its fast acceptance. Chinese tend to have the mentality that "outside monks chant the better prayers." It carries mystique, which is essential to the build-up of romantic ambience.

In their attempt to explain the origin of Valentine's Day, scholars have offered three vastly distinct versions that cover all bases. One comes from England and has something to do with birds mating. The other two trace the beginning all the way to the Roman empire. The more popular one of the two, according to experts, is about a priest in the third century who secretly held weddings for lovebirds when the tyrant of the day, in an attempt to conscript all men of a certain age, banned all weddings. When he learned of the priest's act of defiance, he did not hesitate to arrest and execute the holy man. That was on February 14 and the priest's name was Valentine. The day was later canonized by lovers to commemorate the great sympathizer of love.

Just another occasion

Whether this is history or myth or a combination of both, most Valentine's Day celebrants in China do not seem to know or care. Like Christmas, Valentine's Day has descended on the Middle Kingdom stripped of its historical implications. As a matter of fact, many lovers treat Christmas as another occasion to be together and have fun, in other words, something in the same vein as Valentine's Day. They may not be aware of its religious origin and certainly do not know the lyrics of the carols. But the pagoda-shaped tree with a lot of baubles is no doubt a big attraction.

The irresistible lure of Valentine's Day lies in its components that are compatible with middle-class lifestyle newly prevalent in urban China. Take candlelight dinners, for example. Thirty years ago it would never have been seen as romantic because power outages, and the resultant candlelight meals, were commonplace.

Almost everything about Valentine's Day, including sending roses, is not part of the traditional Chinese dating ritual. Therefore, it is still devoid of ennui and nonchalance that is often associated with native customs. Since it's Western in source, it carries an exotic quality and upward mobility.

In an online survey, more than three quarters of respondents disagreed that Valentine's Day is "vulgar" or "should be ignored." If anything, it is perceived by most people as "in vogue."

Tradition forgotten

While Valentine's Day is being embraced by more and more people, China's own day for lovers is on the decline in terms of popularity.

To begin with, many people don't even know that such a holiday exists; and then there are two days competing for this honour.

Lantern Festival, the 15th day of the first month on the lunar calendar, is considered by some as China's Valentine's Day. But it is in dispute. Some say it is a fallacy and attribute it to its proximity to Valentine's Day because it usually falls in early or mid-February.

The other contender is half a year away, in August. Qixi, denotes the seventh day of the seventh month on the lunar calendar. It is the day when a pair of mythological lovers, Niulang and Zhinu, have their annual meeting across the heavenly river of the Milky Way.

Over the centuries, Qixi was observed by lovers and everyone else. Customs evolved, but the theme of love conquering all has remained to this day. However, in modern days, Qixi is commemorated mostly in China's Taiwan Island. It may be an overstatement to say it is in decline because it has never caught fire with the current generation in most parts of the country.

Experts attribute the growing indifference towards the home-born holiday to its cultural inferences. In the legend, the two lovers are forcibly separated by her father, the celestial emperor, who later yields a little by allowing them to meet once a year. Yet nobody dares to challenge the emperor's authority because in feudal times, one's obedience to parents took precedence over loyalty to the spouse.

Qixi tale

The Qixi tale embodies several layers of rebelliousness: The daughter's free will to love someone without the consent of her parents, an "upper-class" girl overcoming the social barrier to marry a poor farmer, and a fairy princess giving up her eternal life to bond with a mere mortal. However, it is essentially a tragedy because they have to pine for each other on 364 days of a year.

Qixi immortalizes one moment that is ephemeral and fast-fleeting. As the poem Magpie Bridge (que qiao xian) comments, "When love is ever-lasting, why should we care about all the mornings and all the nights?" But Valentine's Day, to those blissfully ignorant of the old, equally sad source story, represents a "seize-the-day-while-you-can" spirit. It gives vent to affection and passion, which Qixi and hundreds of other Chinese love stories from the ancient times have couched in euphemism and restrained expressions.

Valentine's Day, in the eyes of the young, is not so much a substitute for Qixi, but rather an extension of the love theme as well as a more accurate reflection of their more candid ways of emotional display.

Push of commercialism

The happiest people about the rise of Valentine's Day in China are not lovers, but merchants. From the very beginning in the 1990s, this has been the day trumpeted by commercial interests to the degree that it is not much of an exaggeration to say the whole thing was masterminded by a giant empire of salesmanship.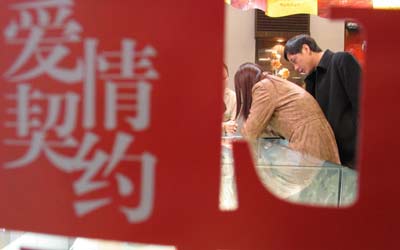 A shop in Hefei, capital city of Anhui Province, invites young lovers to sign "a love contract" on Valentine's Day. More than 100 people have taken part in the event. [newsphoto]
If you take a look at a newsstand, you'll find that pages and pages of Valentine's Day coverage read like product releases. Not just florists and chocolate retailers, but everything conceivable.
An upscale hotel in Shanghai is promoting a "rose suite" for tonight, replete with all kinds of heart-shaped goodies. The price: 88,888 yuan (US$10,750). No wonder people say love is priceless.
For most merchants, sales and profits, while intoxicatingly extravagant, can be measured or predicted. A single rose may fetch up to 300 yuan. One wholesaler in Beijing, surnamed Liu, reveals that he is making about 20,000 yuan a day, hands down. Guangzhou-based China Southern Airlines ships about 20 tons of flowers a day. The highest daily turnover volume at the city's Baiyun Airport is 50 tons of flowers. "Our cargo service has been almost all flowers lately," says one manager.
Many delivery companies, including online stores, have been turning customers away. Our capacity was stretched by the first two days of orders, and we cannot handle a single more request, says the executive of a Beijing express service.
An online survey at Sina.com reveals that 50 per cent of respondents choose to send flowers to their beaux and 35 per cent opt for other gift items. Only 15 per cent are uncertain. On the spending scale, the mostly young online crowd plan to shell out an average of 250 yuan each.
Not only is holiday news coverage turned into consumer guides, but even entertainment-section gossip has been made into self-promotional media exposure. A star is shooting a movie on location; a star is taking a day off and relaxing at home; a star is partying at a posh venue. Every routine is hyped under the pretext of Valentine's Day activities even if that star has no romantic appeal and has never appeared in a filmed romance.

Today's Top News
Top Life News

Zoellick: US can't close door to Chinese goods




US, N. Korea bilateral contact lasts one hour




Capital, Hebei in row over river water use




Referendum provokes rise in tension




Import of two Isuzu autos suspended




Farmers to get direct subsidies from the state