Locals move to prevent new bird flu outbreaks
(China Daily)
Updated: 2004-02-13 23:07
While another six previously suspected outbreaks of the deadly H5N1 bird flu in China were confirmed on Friday, governments at various levels take stronger measures to prevent the virus from spreading wider.
Confirmed bird flu cases were spotted in Shilin County and Xishan District of Kunming in Yunnan Province, Southwest China, Luoding and Jiedong County in Guangdong Province of South China, officials said.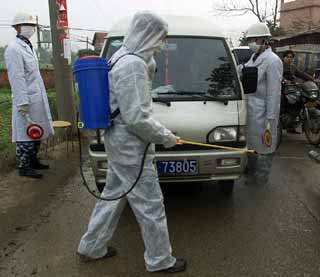 Workers disinfect vehicles coming out of Dingdang Town, Long'an County in the Guangxi Zhuang Autonomous Region, February 12, 2004. Traffic wanting to leave the area has to remain in quarantine for 21 days before it can pass as the town tries to avoid the spread of bird flu. [newsphoto]
Meanwhile, suspected cases were also confirmed in Nanhui District of Shanghai and Jinnan District of Tianjin in the north.
The National Bird Flu Reference Laboratory also confirmed the death of several black swans in a wildlife zoo in Shenzhen in Guangdong was caused by bird flu.
All the outbreaks were brought under control in the localities, and no new suspected bird flu cases were reported on Friday, said the ministry.
And some 7,793 people in the bird flu-hit areas, who have had close contact with the sick poultry, have been put under medical supervision and 1,288 blood samples and 591 throat samples have been collected for testing, the Ministry of Health said.
"So far all the reported test results were negative and there are no suspected or confirmed human bird flu infection reports on the Chinese mainland," the ministry said.
In Beijing, the municipal government has adopted effective measures to prevent the import of bird flu virus from other areas to the capital.
Local authorities vowed on Friday that the poultry products sold on the Beijing market are safe to eat.
The message was conveyed at a press conference which was organized by the Information Office of the Beijing municipal government.
A total of 27 passages in Beijing were designated by local authorities to be where animals and animal products are required to pass through before entering the capital city, said Liu Yaqing, deputy commander-in-chief of the Beijing Municipal Headquarter on Prevention and Cure of Serious Animal Epidemics.
A truck full of chicken carcass from bordering Hebei Province was stopped Friday noon at Liulihe in Beijing's Fangshan District, one of the authorized passages, by the Beijing Municipal Liulihe Veterinary Quarantine Station.
Strict sterilization and quarantine will be taken at such passages for these poultry products.
Avian influenza in several Asian countries is still not under control, however, and international co-operation is still needed to address the issue, the United Nations Food and Agriculture Organization (FAO) said Friday.
"Cambodia, China, Indonesia and Laos continue to report new outbreaks in poultry," the Bangkok-based FAO Regional Office for Asia and the Pacific quoted a FAO statement as saying.
Today's Top News
Top China News

CCTV restructuring proof of media reform




Bank of China floating huge bond offering




Jilin governor apologizes for fatal blaze




Moscow police stop raiding Chinese stalls




Senator Kerry blasts Bush, leads in primary




U.S. navy jet fighter F18 is for sale on eBay