Poll: Public's trust in Bush at low ebb
(Agencies)
Updated: 2004-02-13 14:30
The public's trust in U.S. President George W. Bush is at the lowest point of his presidency, with about half of those surveyed saying he is honest and trustworthy and almost that many saying he is not, according to a poll released Thursday.
The ABC News-Washington Post poll found that 52 percent felt Bush was trustworthy, while 42 percent did not. The poll found public support for the war in Iraq slipping and people were about evenly split on whether they approve of the job he is doing as president or not.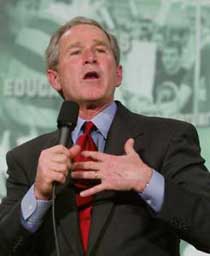 U.S. President George W. Bush speaks about his Administration's push for better jobs through education in Pennsylvania, February 12, 2004. [Reuters]
Honesty and credibility have been central to Bush's appeal since the 2000 campaign, when he benefited from disgust over U.S. President Bill Clinton's lies about the Monica S. Lewinsky affair and when Bush's campaign accused then-Vice President Al Gore of "saying one thing and doing another." But a number of factors, including the failure to find unconventional weapons in Iraq and the administration's underestimating of its Medicare prescription drug plan's costs, appear to have undermined perceptions of his credibility.
Bush's possible Democratic opponent, Sen. John F. Kerry, has begun to talk about a "credibility gap." Even some Bush allies say they have been misled about Iraq's weapons, and the current Time magazine cover story asks: "Believe him or not -- does Bush have a credibility gap?"
Questions about Bush's use of prewar intelligence, in addition to feeding doubts about his honesty, have sent his performance rating plummeting.
For the first time in this poll, support for the war dipped just below half, 48 percent, with an equal share, 50 percent, saying it was not worth fighting.
More than half in the poll, 54 percent, said that the Bush administration intentionally exaggerated the threat from weapons of mass destruction in Iraq, but more of that group says administration officials exaggerated the threat than said they lied.
Nine-point advantage for Kerry
These doubts have affected Bush's reelection prospects. In a hypothetical head-to-head matchup, Kerry beat Bush by 52 percent to 43 percent among registered voters. Bush had more passionate support -- 83 percent of his backers said their support was strong, while 59 percent of Kerry supporters said so -- and retains an advantage over Kerry in dealing with Iraq and the war on terrorism. But the Democrat was seen as better able to handle the economy and jobs, education, and health care -- all top issues with voters this year.
The survey found a steep drop in public perceptions of Bush as a president and as an individual. In a sign that Bush has been set back by recent controversies over Iraqi weapons, his National Guard record and the federal budget, the number of Americans viewing him as a "strong leader" has slipped to 61 percent, down 6 points from December and the lowest level since the 2001 terrorist attacks.
Bush's rating on handling the economy stood at 44 percent, down 7 percentage points, with nearly half of the public saying they are worse off now than they were when Bush became president three years ago. Six in 10 disapprove of the job Bush is doing creating jobs. On education, 47 percent said they approve of the job Bush is doing, down 8 points from January. And his rating on health care has also fallen.
But the president's declining ratings related to Iraq were most striking. Approval of his handling of the situation there has fallen to 47 percent, down 8 percentage points in the past three weeks. About half of Americans -- 51 percent -- said they would prefer a report evaluating the accuracy and use of prewar intelligence before the election, while 35 percent favor what Bush has ordered: a broader study of the overall accuracy of U.S. intelligence-gathering operations that reports its findings after the election.
While 21 percent believe that Bush lied about the threat posed by Iraq, a larger number -- 31 percent -- thought he exaggerated but did not lie. Indeed, six in 10 Americans believed, as Bush did, that Iraq had such weapons.
Three in four Democrats said Bush either lied or exaggerated about what was known about Iraq's weapons, while an equally large majority of Republicans said the president did neither. Slightly more than half of all independents believed Bush had misled the public about Iraq's weapons cache.
'He's manipulatable'
"I think he was believing what he wanted to believe," said one respondent, Ron Perholtz, an accountant from Jupiter, Fla. "I can't say he's dishonest. He heard what he wanted to hear. He's manipulatable by [Vice President] Cheney and others."
Many respondents expressed regrets about the Iraq war. For example, Mike Richcreek, 52, of Warner Robbins, Ga., believes Bush neither exaggerated nor lied. "He went by what the intelligence given to him showed," Richcreek said. But, at the same time, Richcreek said he has begun to doubt the merits of the war.
"I'm not sure now we should have gone to war in the first place," he said. "You think of all of our young kids getting killed. That's a problem. I'm glad I didn't have to make the decision."
A tracking poll by the National Annenberg Election Survey found that Bush's overall job approval dropped sharply in late January after David Kay, the former chief U.S. weapons inspector in Iraq, said he did not think those weapons existed.
In other findings in the poll, 47 percent, said the economy has gotten worse while Bush was president — reflecting recent signs that consumers are growing more anxious about the economy. Only four in 10 said Bush understand the problems of people like them.
A total of 1,003 randomly selected adults were interviewed Feb. 10 to 11. The margin of sampling error for the overall results is plus or minus 3 percentage points.
Today's Top News
Top World News

Shanghai opens to public the 'red-titled' documents




US 7th Fleet warship to visit China this month




Push to lift arms embargo on right track




Snakeheads expose cruelsome truth




Luxurious Valentine offer spurs criticism




Vice-premier lauds US halt of farm subsidies