US soldier charged in al Qaeda sting
(Agencies)
Updated: 2004-02-13 08:54
A U.S. National Guardsman in Washington state has been charged with trying to pass military secrets to the Islamic militant group al Qaeda after being caught in a sting operation, military officials said on Thursday.
Army Spc. Ryan Anderson, a tank crewman, was slated for deployment to Iraq this summer from Fort Lewis, near Tacoma, Washington, where his unit is based.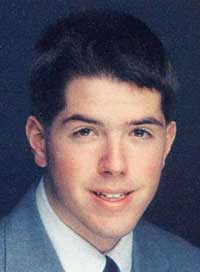 U.S. Army National Guardsman, Spc. Ryan Anderson, shown in his 1995 high school yearbook picture [Reuters]

U.S. officials have said al Qaeda, accused of the Sept. 11, 2001, attacks on U.S. cities and of targeting other American facilities around the world, was also involved in some attacks on U.S. forces in Iraq.

Anderson was arrested on Thursday for "aiding the enemy by wrongfully attempting to give information to the al Qaeda terrorist network," according to Lt. Col. Stephen Barger, a spokesman at Fort Lewis.

Barger said Anderson would be held at Fort Lewis and that more information would likely be released in four or five days.

Anderson was to be mobilized as part of a rotation of U.S. troops in the Iraq occupation force.

Local media said Anderson was 26 and a converted Muslim who grew up in Everett, Washington, and graduated from Washington State University in 2002.

Barger did not discuss Anderson's religious beliefs, however, saying that "religious preferences are an individual right and responsibility."

The Pacific Northwest region has witnessed a series of arrests in the past year over al Qaeda-linked activities.

Earlier this week, Maher "Mike" Hawash, a 39-year-old former Intel Corp. software engineer in Portland, Oregon, was sentenced to seven years in prison for trying to aid Taliban forces in 2001.

Hawash had tried to travel with others, most of whom have also been sentenced to prison terms, to link up with Taliban forces, a journey which reached a dead end in China in October 2001.

James Ujaama, of Seattle, is due to be formally sentenced on Friday of plotting to set up an al Qaeda training camp in the United States.
Today's Top News
Top World News

US 7th Fleet warship to visit China this month




Push to lift arms embargo on right track




Powell: US sees no need for Taiwan referendum




Vice-premier lauds US halt of farm subsidies




Snakeheads expose cruelsome truth




Luxurious Valentine offer spurs criticism