Powell: US sees no need for Taiwan referendum
(chinadaily.com.cn/agencies)
Updated: 2004-02-12 14:17
US Secretary of State Colin Powell told Congress on Wednesday the Bush administration "doesn't really see a need" for the Taiwan referendum question, and opposes action that would change the status quo in the region.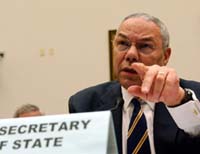 In a testimony before the House International Relations Committee, Powell said: "Taiwan is a democratic place, if they choose to have a referendum, they can have a referendum. We've made clear to them, however, that we do not want to see these actions lead in any way to change in the situation."
He said: "We still are fully supportive, and totally committed to our one-China policy based on the three communiqués and the Taiwan Relations Act.... And we don't believe any action should be taken in the region that would unilaterally change the situation."
Last month, under pressure from Washington, the Taiwanese "president" Chen Shui-bian retreated from a plan to present a ballot question bluntly demanding that the mainland renounce the use of force and withdraw missiles aimed at the island.
In its place, Taiwanese voters will now be asked whether, if the mainland refused to withdraw the missiles, Taiwan should acquire advanced anti-missile systems. A second measure on the ballot will ask if Taiwan should engage in negotiations with the mainland on a "peace and stability" framework for cross-Straits integration.
The Chinese central government regards the ballot initiative as a provocation and is reported to have pressed the US administration to take a tougher stand against it.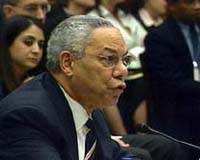 Mr. Powell told a committee questioner the United States "is not expressing support" for either ballot question, and said Taiwan and the mainland will have to work together to "eventually find a way of reconciling their different views and interests."
The Chinese central government has been strongly opposed to Taiwanese leader Chen Shui-Bian's plans for the March 20 referendum, in which he is also seeking re-election.
On January 30 during a trip to Beijing, Deputy Secretary of State Richard Armitage said it is quite clear that the United States is opposed to any unilateral action which alters the status quo by either side.
When asked about discussions in Taiwan about holding a referendum, Armitage replied: "As much as we respect Taiwan's democracy, the referendum in question does raise some questions."
"As I understand it," Armitage said, "referenda are generally reserved for items or issues that are either very divisive, or very difficult. The wording that I have seen of the referendum seems to be neither divisive nor difficult. So I think it raises some questions about the motives of those who want to put it forward."
"The position of the United States on this is that we're studying this very carefully. It's not just the written words that would be in front of one on a paper, but it is the context of them and how they are used domestically. It's a very fluid situation."
The United States, Armitage said, wants to study the referendum proposal in context "and how it's used domestically." He noted that in Taiwan, "there is an election campaign going on, and that may have something to do with it."
Today's Top News
Top China News

CCTV restructuring proof of media reform




Bank of China floating huge bond offering




Jilin governor apologizes for fatal blaze




Moscow police stop raiding Chinese stalls




Senator Kerry blasts Bush, leads in primary




U.S. navy jet fighter F18 is for sale on eBay