MoveOn and WWW set up campaign to censure Bush
(Agencies)
Updated: 2004-02-12 10:34
Grassroots cyber-movement MoveOn.org, which claims more than two million U.S. members, has launched a high-profile campaign demanding that Congress formally censure U.S. President Bush for lying to it about the threat posed by ousted Iraqi president Saddam Hussein.
Joined by another group, Win Without War (WWW), MoveOn said it had already collected more than 450,000 signatures on an email-based petition drive in just the past week, and will now take out print and television advertising to bring more people into the movement.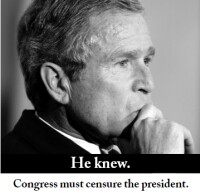 The two groups ran a full-page ad in the Washington Post on Tuesday accusing Bush of running "a campaign of misinformation, of cherry-picking and distorting intelligence, of hype and hysteria that led America into an unnecessary war."
"There must be consequences when a president misleads the American people, and the Congress, with such disastrous results," said the ad, which featured a photograph of a pensive Bush with the caption, "He knew."
"An independent commission can deal with failures at the intelligence agencies. Congress should deal with the failures at the White House," it added.
"Congress devoted considerable attention and, eventually, voted to impeach President (Bill) Clinton for misleading the public about a sexual affair," said Adam Ruben, national field director of MoveOn, adding, "It isn't unreasonable to think that misleading the nation about the necessity of going to war constitutes an abuse of power of much greater significance."
The campaign by MoveOn and WWW, which is expected to be joined by other national anti-war groups in coming days, begins as the administration, including Bush himself, has become increasingly defensive about both the war and the justifications given for attacking Iraq in March.
It also comes amid a flurry of new public-opinion polls indicating the president's public approval rating has fallen sharply over the last several weeks, particularly following the admission by Washington's former chief weapons inspector, David Kay, that the administration's pre-war statements about Iraq's alleged weapons-of-mass-destruction (WMD) programs were unfounded.
Polls over the past two weeks have shown Democratic Party front-runner John Kerry either ahead of, or in a dead heat with, Bush if the November election were held now.
In the latest poll, taken just after the president's unprecedented, hour-long interview on NBC-TV's 'Meet the Press' on Sunday, the Gallup organization found the two candidates in a virtual tie. Just one month ago, Gallup had Bush leading Kerry by 12 percentage points.
But in a second survey taken before the interview, Gallup said the percentage of voters who identified themselves as Democrats had jumped from 30 to 34 percent in just two weeks, while those identifying themselves as Republicans dropped by one percentage point.
As a result, Democrats now lead Republicans by three percentage points in party identification.
That finding is likely to make a major impression in the Republican-controlled Congress, where all 435 seats of the House of Representatives and one-third of the Senate are up for election in November.
Committees in both houses have been investigating pre-war intelligence for months, but they have split along partisan lines over how to do so.
Republicans have insisted that investigations should be confined to mistakes made by the official intelligence community in assessing the threats posed by Iraq before the war, while Democrats have called for the probes to be expanded to include the ways in which senior administration political appointees--notably in Vice President Dick Cheney's office and the Pentagon--interfered with that process.
But the Democrats' appeals have been resisted by the Republican chairs of the two committees.
Similarly, Bush tried to co-opt calls for a wider investigation last week by creating a commission to study why the intelligence proved wrong in Iraq, but it will not report until 2005 and its mandate has also been limited to the intelligence itself, rather than any possible manipulation by political appointees.
The MoveOn campaign is designed to bolster demands that the scope of the congressional investigations be expanded as part of a process to formally censure Bush for distorting the intelligence.
This is not about a failure of intelligence, said Tom Andrews, a former Democratic congressman who heads WWW, which is itself a coalition of some 42 national groups. "It's a failure of integrity."
"Bush knew that the intelligence community's assessment of Iraq's arms programmes did not support the administration's pre-conceived notion that Iraq had chemical and nuclear weapons", said Andrews. "He knew better--but he chose to mislead us."
"If Congress refuses to hold this administration accountable, we will hold its members accountable in every (congressional) district in the country," he said.
Andrews was joined by two retired senior intelligence officials who charged that, while the official intelligence community made mistakes in their analyses, the much greater fault--and distortions of intelligence--lay with the administration's political figures.
"This country is now going through the worst intelligence scandal in its history", said Melvin Goodman, a former top CIA analyst who teaches at the National Defense University here.
Calling the administration's allegations about Hussein's alleged WMD programs and ties to the al-Qaeda terrorist group a "campaign of deceit," he charged that the Office of Special Plans (OSP) established by Pentagon chief Donald Rumsfeld, "was engaged in falsifying intelligence information" that was then leaked to the press and sent via Cheney's office to the White House.
"The reasons we were given for going to war were false," added Larry Johnson, a career CIA officer who served as deputy director of the State Department's Office of Counter Terrorism in the 1990s.
"The Bush administration engaged in a deliberate campaign of information warfare, which employed erroneous and misleading information as part of a broader strategy to build public opinion for an invasion," he said.
Johnson noted that both Cheney and Rumsfeld consistently asserted the existence of operational ties between Iraq and al-Qaeda. "But the CIA found no evidence that Iraq was engaged in supporting Islamic terrorism."
Also on hand Tuesday was Fernando Suarez del Solar from San Diego, California, whose son, a Marine, was killed last March in Iraq. "He died in Iraq, and for what"? asked Suarez. "For President Bush's lies."
MoveOn, which was founded by Internet entrepreneurs, has come to be seen as a model for political organizing and fund-raising through the Internet. In the 2000 elections it raised more than $2 million or congressional candidates and almost doubled that total in 2002.
Consultations with its fast-growing membership earlier this year resulted in raising millions of dollars for Democratic candidate Howard Dean's now-faltering primary campaign, while its television and newspaper ads are widely considered among the most effective in the country.
Today's Top News
Top World News

Powell: US sees no need for Taiwan referendum




Former Anhui vice-governor executed for bribery




Solana: Arms ban on China to go, no date set yet




Chen's latest peace overtures "deceptive talk"




China OKs RMB business for 4 overseas banks




China star rankings hint at struggles of showbiz