Missing Russian candidate resurfaces
(Agencies)
Updated: 2004-02-11 15:44
The Russian presidential candidate reported missing last week answered one question in the political mystery when he turned up at a snowy Moscow airport — he was alive. But he gave few clues to the other queries swirling around his case.
Why had Ivan Rybkin gone to Ukraine? Why hadn't he told his wife or campaign staff? Would he try to mount a credible campaign after all this?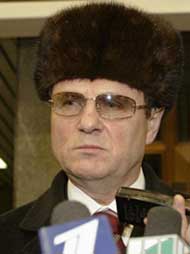 Russian presidential candidate Ivan Rybkin speaks to the media on his arrival in Moscow, Tuesday, Feb. 10, 2004. [AP]

Hours after the Central Election Commission validated Rybkin's candidacy on Saturday, his campaign staff said that neither they nor his wife had seen a trace of him since Thursday. His driver and guards dropped him off at home, but he was gone by the time his wife came home, the staff said.

A missing person's report was filed Sunday and police opened a murder investigation on Monday, but dropped it hours later, citing a lack of evidence. That afternoon, a Russian lawmaker claimed that Rybkin, 57, had been located at a resort outside Moscow; he wasn't.

Rybkin, a longshot liberal challenger to President Vladimir Putin, phoned campaign manager Kseniya Ponomaryova on Tuesday to say he was in Kiev, the capital of Ukraine. He said he'd gone there to chill out for a few days and would return that night to Moscow's Domodedovo Airport.

Instead, he arrived at Moscow's Sheremetyevo-1 airport and in brief comments to reporters, he said nothing about going to Kiev for a break. Instead, the politician made subdued, vague statements that appeared to indicate his absence was not an action of his own will.

"Such despotism is not like anything I have seen or experienced in 15 years of political life," he said.

Rybkin, who has pushed for the Kremlin to negotiate with Chechen rebels, said he was returning "as if I had been in a difficult round of Chechen negotiations. I'm very satisfied that I returned."

Asked whether "other outcomes" had been possible, he said, "I don't know, there probably were," hinting that he might not have returned. On the prospect of withdrawing from the March 14 presidential race he said, "Yes, I am considering it." He did not say why.

In terms of attracting votes, Rybkin presented little or no challenge to Putin, who is expected to win a second term easily. Rybkin has little name recognition and is known for spouting fierce criticism of the overwhelmingly popular incumbent. In addition, his Liberal Russia party is funded by exiled tycoon Boris Berezovsky, who is widely disliked.

While the mystery around Rybkin's disappearance swirled, Russian political observers suggested several possibilities: that his disappearance was staged as a political gimmick aimed at destabilization ahead of the election, that he fell victim to intrigues within his Liberal Russia party or that he was targeted in a politically motivated attack by the Russian security services.

Liberal Russia leaders have said it would be unlike Rybkin to stage his disappearance as a public relations move. A longtime critic of Russian security services, Berezovsky pointed the finger at them again, hinting in an interview published Monday in the daily Kommersant that they know something about Rybkin's disappearance.

Berezovsky told Echo of Moscow radio on Tuesday that he had spoken to Rybkin after he turned up and that Rybkin told him that he had been tired and went to Ukraine to visit friends.

Berezovsky spoke after Rybkin was quoted as saying, "I have the right to two or three days of private life."

"Last week, I decided to take a break from the fuss around me. I left fruit and money for my wife, who now is occupied with the grandchildren, but didn't say anything to her, changed my jacket, got on the train and left for Kiev," Rybkin said, according to the Interfax news agency.

Berezovsky, now living in Britain where he has been granted asylum, said he had always known Rybkin to be a "very responsible" person and added that "if it turns out that this was an escapade, then (Rybkin's) political career is over."

As for Rybkin, his last comment at the airport was "I am upset that all this made my daughter cry. But thank God I am here."
Today's Top News
Top World News

Mainland will not meddle in Taiwan's election




OIE: No proof to say bird flu originated in China




White House made public Bush's war record




WHO: Controlling bird flu may take two years




Suicide car bomb kills 44 at Baghdad army center




Yao Ming tops Forbes' China celebrity list