Kerry wins in two more states, Clark quits
(Agencies)
Updated: 2004-02-11 14:22
U.S. Senator John Kerry, all but unstoppable in his march toward the Democratic presidential nomination, racked up massive victories in Tennessee and Virginia on Tuesday and sent another rival packing. Triumphant in Dixie, Kerry has now won in every region.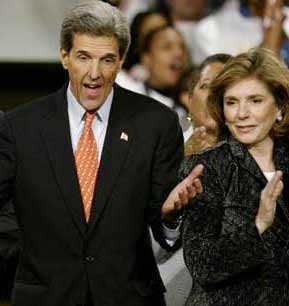 U.S. Democratic presidential candidate, Massachusetts Senator John Kerry, reacts alongside his wife Teresa Heinz Kerry at a rally at the George Mason University in Fairfax Virginia, February 10, 2004. Kerry rolled to dominating wins in Virginia and Tennessee on Tuesday, scoring a Southern sweep that could knock out at least one rival and put the nomination within reach. [Reuters]
"Americans are voting for change — East and West, North and now in the South," the Massachusetts Brahmin declared to the roar of supporters chanting, "Kerry! Kerry!" in Fairfax, Va.
John Edwards and Howard Dean clung quixotically to the hope that Kerry would stumble on his own or by scandal, but party leaders began pressing for the nomination fight to end.
The fourth-term senator pocketed half the vote in Virginia — with Edwards of North Carolina a poor second and Wesley Clark of Arkansas a far-distant third. Kerry crushed Edwards and Clark in Tennessee.
With two third-place finishes Tuesday — and a lone win in Oklahoma last week — Clark dropped out of the race. The retired four-star Army general, a political neophyte, planned to bow out officially in his home state on Wednesday.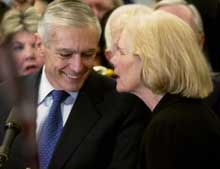 U.S. Democratic presidential candidate retired Gen. Wesley Clark (L) shares a moment with wife Gert during an election night rally with campaign supporters in Memphis, Tennessee, Feb. 10, 2004. It was announced that Clark was pulling out of the race to be the Democratic challenger to President Bush. [Reuters]

Dean, the fallen front-runner, finished in single digits in Virginia and Tennessee, the latter the home state of political benefactor Al Gore. Dean had already retreated with his staggering campaign to Wisconsin, site of a Feb. 17 primary.

Edwards tells voters at every stop that he is the only candidate who could beat Texas-reared U.S. President Bush in his own backyard, the South, yet he lost to Kerry in Dixie. The freshman senator will remain in the race, aides said, pointing his troubled campaign to Wisconsin and March 2, when 10 delegate-rich states hold elections.

"We're going to have an election, not a coronation," Edwards told cheering supporters in Milwaukee.

With some Southern comfort, Kerry has won 12 of 14 contests — seven by nearly half the vote — on the East and West coasts, in the Midwest, the Great Plains and the Southwest.

Awash in confidence, Kerry planned to take Wednesday and Thursday off to nurse a cough and make telephone calls from home in Washington. He focused on Bush, not his party foes.

"The wreckage of the Bush economy is all around us," Kerry told supporters as some party elders said it was about time to rally behind a nominee.

"My hope is that the winnowing process begins right after tonight," said New Mexico's Democratic governor, Bill Richardson, who is not allied with any candidate.

Voters in the two states, like those in most of the first dozen contests, said the ability to defeat Bush was the top quality they sought in a candidate — and they sided 6-to-1 with Kerry, according to exit polls.

"Anybody but Bush," said Charles Edwards, 50, of Falls Church, Va., who decided to vote for Kerry as he entered his voting booth. "I'd vote for the devil."

Bush's poll ratings have dropped amid questions about his use of U.S. intelligence in deciding to go to war in Iraq. As Democrats cast their votes, the White House released pay records and other information to answer questions — echoed by Kerry — about whether the president fulfilled his Vietnam-era commitment to the National Guard.

The subject didn't come up Tuesday night, though Kerry said he and his fellow Vietnam veterans are still fighting for their country.

"For more than three years, this administration has failed to tell the truth about their economic record," Kerry told supporters.

He said it's not up to him to decide whether his foes should stay in the race. Still, his every strategy was designed to dispatch his rivals with Tuesday's triumphs, victory next week in Wisconsin or a nail-in-the-coffin showing March 2.

"What we showed today is the mainstream values that I've been talking about, fairness and hope and hard work and love of country, are more important than boundaries and birthplace," the Massachusetts senator told The Associated Press.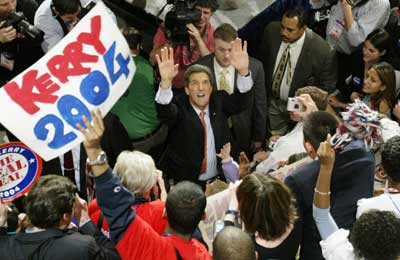 U.S. Democratic presidential candidate, Massachusetts Senator John Kerry, greets supporters at a rally at the George Mason University in Fairfax Virginia, February 10, 2004. [Reuters]
"People want change in the country. They want to move forward in a new direction and I think I'm articulating what that new direction can be," Kerry said. "It's crossing all lines ... without regard to region and other labels."
With 100 percent of the vote in Virginia, Kerry had 52 percent, Edwards 27 percent, Clark 9 percent, Dean 7 percent, Al Sharpton 3 percent and Rep. Dennis Kucinich of Ohio 1 percent. In Tennessee, with 98 percent reporting, Kerry had 41 percent, Edwards 26 percent, Clark 23 percent, Dean 4 percent and Sharpton 2 percent.
Virginia and Tennessee had 151 delegates at stake.
An AP analysis shows Kerry has piled up more than twice as many delegates as his closest pursuer. Counting results from Tuesday's races, Kerry now has 516 delegates to Dean's 182, with Edwards at 165 and Clark at 102. A total of 2,162 are needed to nominate.
Kerry finished strong across all demographic groups and regions, with one potential weakness as he looks toward a general election race in the South: Although he finished first among white voters, he ran stronger with black voters, according to exit polls conducted for The Associated Press and television networks by Edison Media Research and Mitofsky International.
Eight in 10 voters said they were angry or dissatisfied with Bush, and Kerry finished strong among them.
"I like the fact that he's a war hero," said Celia Ambrester, 69, of Knoxville, Tenn. Kerry won three Purple hearts, one Bronze star and one Silver star in Vietnam. "We need someone in office who's been in war and knows the issues."
For Edwards and Dean, the temptation to stay in the race was strong because the front-runner has not been tested by scandal or miscues thus far in the primary season. Kerry's critics also point out that the crowded election schedule has not left much time for voters to take a second look at the front-runner.
Some voters were already looking. Bob Casey, 68, of Memphis, Tenn., sided with Clark after calling Kerry a liberal "from back East." Eugene Robinson, 32, of Richmond, Va., voted for Clark because "he wasn't some smarmy politician who was ready to talk about all the laws he's passed and all the committees he's been on."
Today's Top News
Top World News

Mainland will not meddle in Taiwan's election




White House made public Bush's war record




Wen calls for reining in excessive lending




China bans poultry imports from US




Yao Ming tops Forbes' China celebrity list




Rumors of fireworks display lead to stampede