Mystery surrounds missing Russian politician
(NYtimes)
Updated: 2004-02-10 14:54
The mystery over the disappearance of a presidential candidate deepened Monday.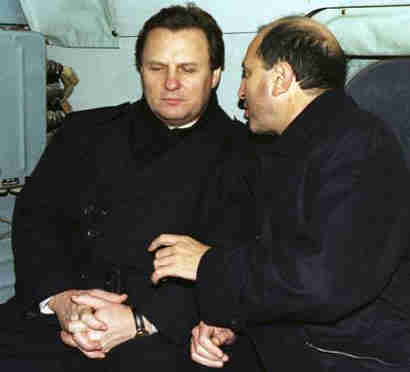 Ivan Rybkin (L) and businessman Boris Berezovsky talk together in a helicopter in the Chechen capital Grozny in this November 12, 1996 file photo.[Reuters]
Moscow's prosecutor's office announced that it had opened a murder investigation in the case of the candidate, Ivan P. Rybkin, only to have federal prosecutors overrule them and close the case within an hour, saying there was no evidence yet to suggest foul play, New York Times reported on Tuesday.
Mr. Rybkin, one of five challengers to President Vladimir V. Putin in the election on March 14, has not been seen or heard from since Thursday night, the police and campaign advisers said. On Sunday, the police began a search for him, interviewing his wife and others and searching places he was known to frequent.
By Monday night, a spokesman for the Moscow police, Kirill V. Mazurin, said investigators had made no progress, despite a statement by a member of Parliament, Gennadi V. Gudkov, that Mr. Rybkin was hiding in a spa outside Moscow. Mr. Gudkov's remark proved unfounded, Mr. Mazurin said.
Mr. Gudkov, a member of the pro-Kremlin party that controls Parliament, said in an interview that he had heard "informal reports" about Mr. Rybkin's whereabouts, but had no detailed information.
Earlier, he told the Interfax news agency that he believed that the patron of Mr. Rybkin's party, the businessman and former Kremlin insider Boris A. Berezovsky, had orchestrated Mr. Rybkin's disappearance to discredit the presidential elections. "I am 99 percent certain that this is yet another political stunt organized by Berezovsky," he said.
Russian and foreign news agencies that reported Mr. Rybkin's "discovery" based on Mr. Gudkov's remarks had to retract the reports. "They lost Ivan Rybkin again," the news Web site Lenta.ru reported Monday evening.
Mr. Rybkin's campaign manager, Kseniya Y. Ponomaryova, described assertions that his disappearance was a hoax as "philistine." She said investigators were taking his disappearance seriously.
Mr. Berezovksy, who lives in self-exile in London after escaping a Russian criminal investigation he says is politically motivated, said he last spoke to Mr. Rybkin, whose presidential campaign he is supporting, on Wednesday afternoon. He dismissed questions that Mr. Rybkin or others had concocted his disappearance.
"I am concerned about his fate," he said by telephone from London.
Russia's Central Elections Commission officially registered Mr. Rybkin as a candidate on Saturday, putting him in a field of six challengers to Mr. Putin, who is universally expected to win re-election. At the same time, the commission said Mr. Rybkin faced a criminal investigation about falsification of signatures required to qualify him for the ballot.
On Monday, the official Russian Information Agency reported that one of Mr. Rybkin's campaign workers had been arrested in connection with the accusations of falsifications.
The Kremlin made no comments on Mr. Rybkin on Monday. The main news program on a state television network, Channel One, cited doubts among investigators about the circumstances of his disappearance.
Today's Top News
Top World News

China, US hold highest-level military talks in 14 months




Cockle picker tragedy stirs UK, China to action




Mystery surrounds missing Russian politician




How 'sea turtles' turned out to be 'seaweeds'?




'Chicken products safe for consumers'