John Kerry: George Bush's days are numbered
(chinadaily.com.cn)
Updated: 2004-02-08 15:16
U.S. Democrat Senator John Kerry romped to two more big victories in the Democratic presidential battle on Saturday night, overwhelming Howard Dean in two of his one-time strongholds, Washington and Michigan, and solidifying his position as the favorite to win his party's nomination.
Mr. Kerry's twin victories - including the one in Michigan, the biggest state that has voted to date, with 128 delegates - mean he has now won 9 of the first 11 nominating contests. By contrast, Dr. Dean, who placed second in Michigan and Washington, has won none.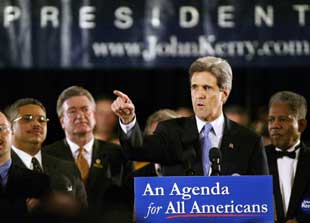 U.S. Democrat Senator John Kerry speaks to his supporters in Virginia Feb. 7, 2004. [Reuters]

The result left little doubt of Mr. Kerry's command of the Democratic field as the candidates head to a vote on Sunday in Maine, where Mr. Kerry is also considered strong, and in Tennessee and Virginia on Tuesday. Mr. Kerry had been campaigning intensely in those two Southern states in a hope of victories that would knock out the two Southerners in the race, Senator John Edwards of North Carolina and Gen. Wesley K. Clark of Arkansas.

Mr. Kerry, of Massachusetts, speaking at a rally before a Democratic dinner in Richmond, Va., on Saturday evening, hailed the results and moved to turn the discussion away from the Democratic presidential race to the contest with Mr. Bush this fall.

"In Michigan and Washington, a message is being sent - and it's the same message that was sent from Iowa, New Hampshire, to Missouri, to North Dakota, to New Mexico to Arizona," he said, "And it is the message that I am carrying to Virginia and to Tennessee, and the message is: George Bush's days are numbered."

In Michigan, with 100 percent of the precincts reporting, Mr. Kerry had 52 percent, while Dr. Dean had 17 percent, barely meeting the 15 percent threshold for qualifying for delegates. Mr. Edwards came in third with 14 percent.

In Washington, with 99 percent of the precincts counted, Mr. Kerry had 48 percent, compared with 30 percent for Dr. Dean.

In Michigan, state party leaders extended the closing time of the poll to 6 p.m. from 4 p.m. in Detroit after a last-minute shift of six caucus sites led to confusion across the city. Some advisers to Mr. Sharpton and Dr. Dean said the last-minute change had the effect of disenfranchising some minority voters, but Democratic leaders, in announcing the result, said they had confidence in the tally.

Today's Top News
Top World News

'Depression' is the catchword among college students




Bird flu detected in US as virus wanes in Asia




John Kerry wins big, becomes major rival of Bush




3 arrested for bombing Chinese restaurants




China court hears homosexual prostitution case