John Kerry wins big, becomes major rival of Bush
(Agencies)
Updated: 2004-02-08 11:25
U. S. Senator John Kerry won crushing caucus victories in Michigan and Washington, trouncing his rivals for the Democratic presidential nomination and launching a sharp attack against President Bush.
The Democratic front-runner, Kerry fashioned his latest victories by outsized margins. The Massachusetts senator's share of the vote in a multi-candidate field hovered over 50 per cent in Washington and Michigan.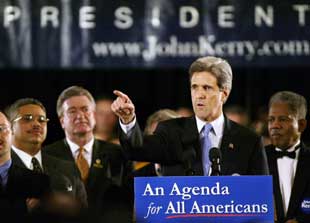 U.S. Senator speaks to supporters in Virginia Feb. 7, 2004. [Reuters]

Howard Dean, the fallen front-runner, had his best showing of the campaign season. He finished second in Washington with 30 per cent of the vote and was runner-up in Michigan. But that was cold comfort for the former Vermont governor, whose once promising campaign unraveled further when the head of a major union withdrew his support.

Democratic officials said Gerald McEntee, head of the American Federation of State, County and Municipal Employees, delivered the news in a meeting in Burlington.

In classic front-runner's fashion, Kerry paid his Democratic rivals little mind, focusing instead on the Republican in the White House.

"This week George Bush and the Republican smear machine have trotted out the same old tired lines of attack that they've used before to divide this nation and to evade the real issues before us," the Massachusetts senator said in remarks prepared for a Democratic Party dinner in Richmond, Va.

"They're extreme, we're mainstream and we're going to stand up and fight back," he said. Aides said the speech was designed to reassure the party faithful he would fight far harder against GOP attacks than Michael Dukakis, the former Massachusetts governor who led the party to defeat in 1988.

Like Dean, Sen. John Edwards and retired General Wesley Clark signaled in advance they had scant hopes for success during the day. They aimed their efforts at states still ahead on the campaign calendar.

Returns from 80 per cent of Washington's precincts showed Kerry with 49 per cent and Dean with 30 per cent. Rep. Dennis Kucinich of Ohio had 8 per cent; Edwards had 7 per cent and Clark had 3 per cent.

Almost-complete returns in Michigan showed Kerry with 50 per cent, Dean with 17 per cent, Edwards 14 per cent, Clark 7 per cent and Sharpton 5 per cent.

Michigan's caucuses permitted voting via the Internet as well as by mail or in person. Ironically, it was the traditional method that produced the biggest controversy of the day. The party kept caucuses in Detroit open two hours later than planned after receiving complaints from supporters of Dean and Edwards that voting sites had been closed or moved.

Kerry's victories lengthened his delegate lead over his rivals. His overall total swelled to 324, with Dean at 143, Edwards at 110 and Clark at 82. It takes 2,162 to win the nomination.

"I think John Kerry will do the job," said Robert Poli, 81, a retired Boeing worker in Washington. "I think he can beat the hell out of Bush."

Michael Crouch, an organist at a church in East Lansing, said he voted by mail for Kerry. "Kerry has a great military record, a great social consciousness and he has a very presidential manner." Maine, with 24 delegates at stake, was holding caucuses on Sunday.

Clark and Edwards pinned their hopes on Tuesday's primaries in Virginia and Tennessee while Dean is making a last stand in Wisconsin, which votes a week later.

In a statement that pointed to his showing in Washington, he said the voters in that state "have sent a clear message that they want this race and this debate to continue...We look forward to tomorrow's Maine caucuses and winning Wisconsin on the 17th."

But fresh polls suggested Kerry's strength was spreading. New surveys showed the Massachusetts senator ahead in all three states.

Kerry has won seven of nine primaries and caucuses held to date, losing only South Carolina to Edwards and Oklahoma to Clark last week.

He looked to Virginia and Tennessee on Tuesday to show his ability to win Southern primaries - and spent part of his day vowing to contest Bush in the region as well.

"This administration is busy trying to paint everybody else as out of touch, out of synch, somehow out of the mainstream," he said in Nashville. "But let me tell you something, I'm not worried about coming down South and talking to people about jobs, schools, health care and the environment.

"I think it's the president who ought to worry about coming down here." Kerry also won the support of Virginia Gov. Mark Warner, who will endorse him on Sunday, according to a Virginia party official. Warner presided over a party dinner Saturday night attended by several of the candidates.

Democrats traditionally fare poorly in the South, and an Associated Press-Ipsos poll taken last week showed the president's approval rating at 60 per cent in the region, compared with 47 per cent nationally.

Kerry had suggested earlier in the campaign that the party's nominee could win the White House without winning any electoral votes in the region, and he has been emphasizing its importance ever since.

Kerry's rivals soldiered on.

Edwards, a first-term senator from North Carolina, made it sound like additional defeats - even in Virginia, Tennessee and on Feb. 17 in Wisconsin - would not deter him.

"This is very much for me a long-term process. It's a war of attrition," he told reporters while campaigning at the University of Memphis. "I'm in it until I'm the nominee."

Clark worked his way through Virginia. He told reporters that - despite his own words to the contrary - Clinton administration officials had never pressured him to end the Kosovo war in the summer of 1999 to avoid harming Al Gore's presidential campaign. ."
Today's Top News
Top World News

'Depression' is the catchword among college students




Bird flu detected in US as virus wanes in Asia




John Kerry wins big, becomes major rival of Bush




3 arrested for bombing Chinese restaurants




China court hears homosexual prostitution case