Israeli strike kills Jihad leader,boy
(Agencies)
Updated: 2004-02-08 09:59
Israel killed an Islamic Jihad leader and a 12-year-old boy in a missile attack on a car on a crowded Gaza City street Saturday, prompting threats of revenge from the militant group.
The air strike, the first targeted killing in six weeks, wounded 10 Palestinians, three of them critically. It was not clear whether the strike signaled a change in tactics after a lull in targeted killings.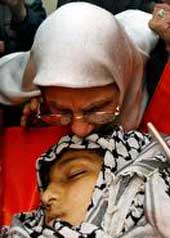 The mother of Palestinian Tarek Sousi, 12, kisses her son's body during his funeral in Gaza City, Saturday. Feb. 7, 2004. [AP]

Also Saturday, a Palestinian military court charged four suspects with planting explosives along a main road in Gaza. A prosecutor said the defendants targeted Israeli tanks, but that one of their bombs may also have ripped apart a U.S. diplomatic vehicle and killed three American security guards Oct. 15.

The bombing further soured relations between the United States and the Palestinian Authority. U.S. officials have complained that Palestinian police are not doing enough to find the attackers.

Divisions among the Palestinians led 400 members of Yasser Arafat's ruling Fatah Party to resign Saturday, saying they were tired of corruption and bad leadership within the group. All were from the lower ranks of the party.

The Israeli military said the target of Saturday's strike, Aziz Shami, leader of Islamic Jihad's military wing in Gaza City, had been preparing for a major attack on the Jewish settlement of Netzarim in Gaza.

Shami was driving a white Peugeot down a busy Gaza City street Saturday morning when a pair of Israeli helicopters homed in on the vehicle. One of the gunships fired a missile that shredded the front of the car and spun it sideways. One of Shami's legs was severed, and his body hung out of the driver's side.
A 12-year-old boy, Tarek Sousi, was also killed. He had been on his way to school. "A small boy with his school bag was covered with blood and two other boys were screaming next to him," said bystander Mohammed Taleb, 36, who was a few yards from the car when it exploded and burst into flames.
The boy's mother bowed over his body and kissed his forehead before his burial.
Israel's military has routinely sent helicopters and F-16 jets to kill Palestinian militants in targeted missile attacks throughout more than three years of fighting.
The army said Shami was behind a 1995 double suicide bombing near the coastal city of Netanya that killed 21 Israelis, all but one of them soldiers, and a more recent infiltration into a Gaza Strip military base in which three soldiers were killed.
Members of Islamic Jihad said Shami was the leader of the group's military wing in Gaza City, and served as a bodyguard of Islamic Jihad leader Abdullah Shami, a cousin.
Abdullah Shami, who was not in the car, said his group, which has carried out dozens of suicide bombings in Israel, would seek revenge.
"The Islamic Jihad movement is a resistance movement and it will respond to this aggression with all its force," Shami said, kissing his cousin's forehead at the morgue of Shifa Hospital in Gaza city.
In Beirut, the Al-Manar TV station, which is run by the Lebanese guerrilla group Hezbollah, released footage it said showed Aziz Shami training with other militants in the Gaza Strip in May.
Wearing a camouflage uniform and a black ski mask over his face, the hulking Shami told the interviewer the group was training to infiltrate Israeli settlements, repel military incursions and was recruiting new members from mosques.
"Even with our lack of resources and our simple equipment we can confront this enemy and tackle him," he said in the interview.
In Saturday's court case, prosecutor, Jamal Shamiyye, said the four defendants admitted that they planted explosives on the main road in Gaza where the U.S. convoy was bombed, but that they were targeting Israeli tanks.
"The explosion that caused the deaths of three Americans might have been a result of one of the explosive devices the group planted in the area," Shamiyye said.
The prosecutor seemed to suggest the convoy was not the intended target. However, Palestinian and U.S. investigators have found evidence indicating the bomb was detonated by someone who watched from a hiding place as the clearly marked convoy passed. A wire found in the road after the blast was attached to a remote control device in a nearby shack.
U.S. officials have recently warned that some U.S. aid programs could be scaled back or canceled if there is no progress in the probe. The court set a Feb. 29 trial date.
In other developments, Palestinian Prime Minister Ahmed Qureia was leaving for Cairo to meet with Egyptian President Hosni Mubarak. The two will meet Sunday to discuss preparations for a possible summit with Israeli Prime Minister Ariel Sharon and upcoming world court hearings on the legality of a 440-mile security barrier Israel is building to seal off the West Bank.
Today's Top News
Top World News

'Depression' is the catchword among college students




17 dead, 11 missing in deserted mine in Shanxi




Notice issued on bird flu prevention, control




3 arrested for bombing Chinese restaurants




China court hears homosexual prostitution case