Jackson apologizes for breast show before millions
(Agencies)
Updated: 2004-02-05 15:06
Pop star Justin Timberlake said he was "shocked," "appalled and "embarrassed" that Janet Jackson's breast was flashed to 100 million US television viewers when he ripped off her bodice on stage.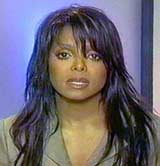 Janet Jackson is shown in a videotape released to the media Tuesday, Feb. 3, 2004, in Los Angeles in which she apologized for the breast-baring incident during her performance at the Super Bowl halftime show. Jackson had previously apologized Monday night in a written statement. [AP]

As Timberlake denied any responsibility for the incident that has sparked outrage across America, Jackson made a contrite public apology for the over-exposure that has also garnered her unprecedented publicity.

And, as the "Nipplegate" scandal shook the country amid a federal indecency investigation, the ABC television network said it would delay the live broadcast of this year's Oscars ceremony to avoid similar antics.

The 23-year-old singer Timberlake broke his public silence on the incident, which took place during a half-time performance at Sunday's football Super Bowl, saying that if it was a stunt, he had nothing to do with it.

"When what happened, happened, I was completely shocked and appalled," he told Los Angeles' CBS 2 News.

The all-American singer said that, according to a plan devised by Jackson and her choreographer earlier Sunday, he was to pull on the bustier and expose her red lace bra, not her naked breast, covered only by an ornate nipple-cap.

"It was, 'Oh my God, oh my God'. I was completely embarrassed. I don't feel like I need publicity like that and I wouldn't want to be involved in a stunt, especially not a stunt of this magnitude," he said.

Jackson took the blame for the incident, which has led to a Federal Communications Commission (FCC) investigation into whether indecency regulations had been breached.

The younger sister of troubled pop superstar Michael Jackson released a video-taped statement in which she declared: "I am really sorry if I offended anyone. That was truly not my intention."

Her previous statements of regret came through a spokesman and followed expressions of outrage from the National Football League, broadcaster CBS and the half-time show's producer MTV.

"My decision to change the Super Bowl performance was actually made after the final rehearsal.

"MTV, CBS, the NFL had no knowledge of this whatsoever, and unfortunately, the whole thing went wrong in the end," Jackson said.

The display of flesh has generated more Internet traffic than even the September 11, 2001 attacks, according to a survey released Wednesday.

There has been much speculation about how far the pair had rehearsed. MTV has a tape of the rehearsal but has no plans to show it, network spokeswoman Marnie Black said. "The tape won't be released," she insisted.

On top of the outrage of FCC chairman Michael Powell, Jackson's display has provoked huge public interest with television channels showing hundreds of re-runs with her nipple blurred out.

The FCC said it had received thousands of telephone calls and e-mails of complaint. Powell called the display a "classless, crass and deplorable stunt".
Today's Top News
Top Life News

Greenspan: Free floatation of the yuan could be risky




Political advisers pledge to better people's life




Jam-proof satellite going up next year




More and more women saying no to abusers




Bush, Kerry open battle for White House




NASA: Mars had enough water for life