Pakistan nuke scientist asks forgiveness
(Agencies)
Updated: 2004-02-05 08:38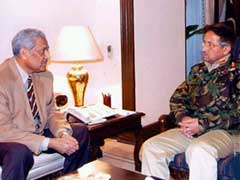 Dr. Abdul Qadeer Khan, left, founder of Pakistan's nuclear program, meets President Gen. Pervez Musharraf at the presidential palace in Rawalpindi, Pakistan, Wednesday, Feb. 4, 2004, released by Press Information Department. [AP]
The founder of Pakistan's nuclear program apologized in a nationally televised address Wednesday for spreading weapons secrets to three nations.
The government said Abdul Qadeer Khan asked President Gen. Pervez Musharraf for forgiveness for selling atomic technology to Iran, Libya and the Democratic People's Republic of Korea (DPRK).
"I have chosen to appear before you to offer my deepest regrets and unqualified apologies," Khan said in a solemn speech broadcast on state television. "I take full responsibility for my actions and seek your pardon."
Intelligence officials, speaking on condition of anonymity, said there was an agreement not to prosecute Khan, who agreed to cooperate with investigators and give them all the required information for their probe into the nuclear transfers.
A friend of the scientist said Tuesday that Khan told him he gave nuclear weapons technology to other countries with the full knowledge of top army officials, including Musharraf.
But Khan said government officials were not involved in the leaks.
"I also wish to clarify that there was never ever any kind of authorization for these activities by the government," he said.
Earlier, Khan met Musharraf at the president's office in Rawalpindi, a city near the capital Islamabad. The government said he requested forgiveness in a "mercy petition" to Musharraf, considering the services he had rendered to Pakistan's national security.
Khan said he admitted involvement in leaks of nuclear technology after being confronted with evidence from Pakistani investigators, who launched their probe in November after Iranian revelations to the U.N. nuclear watchdog.
"The investigations have established that many of the reported activities did occur and these were inevitably initiated at my behest," Khan said. "In my interviews with the concerned officials I was confronted with the evidence and the findings and I have voluntarily admitted that much of it is true and accurate."
Musharraf called a meeting for later Wednesday of the National Command Authority that controls Pakistan's nuclear assets, which was expected to decide on Khan's plea for mercy.
Earlier, the government said Khan "accepts full responsibility for all the proliferation activities which were conducted by him during the period in which he was at the helm of affairs at Khan Research Laboratories." Khan founded the lab in the 1970s and headed it until retiring in 2001.
The president told Khan the "entire nation had been severely traumatized" by the revelations of proliferation, according to the government statement.
Television footage of the meeting showed a stony-faced Musharraf, wearing a camouflage jacket, speaking to a contrite-looking Khan.
Khan was sacked as a government adviser Saturday, and officials say he has confessed in a written statement to selling nuclear technology to Iran, Libya and DPRK. U.S. President George W. Bush in 2002 said Iran, prewar Iraq and DPRK formed an "axis of evil."
Khan was told by authorities to stay at his Islamabad home, where he is guarded with tight security.
The government said Khan realized his proliferation activities, "which were in clear violation of different Pakistani laws, could have seriously jeopardized Pakistan's nuclear capability and put the nation at risk."
Musharraf was due to address the nation in the coming days to announce what action will be taken against Khan and six other suspects in the case.
Previously, the government has promised to take legal action against anyone proved of wrongdoing. However, analysts say a public prosecution could prove embarrassing to the government if it implicates top military figures.
Khan's alleged admissions have shocked many in Pakistan, and raised questions about how he could have spread nuclear technology without the consent of the military which has often ruled Pakistan since the country gained independence from Britain in 1947.
Two retired army chiefs have told investigators they did not authorize nuclear transfers. Musharraf and other government officials have repeatedly ruled out official involvement in proliferation.
Today's Top News
Top World News

CCTV restructuring proof of media reform




Bank of China floating huge bond offering




Jilin governor apologizes for fatal blaze




Moscow police stop raiding Chinese stalls




Senator Kerry blasts Bush, leads in primary




U.S. navy jet fighter F18 is for sale on eBay