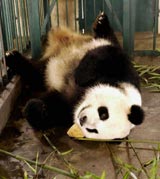 Bai Yun, a 13-year-old giant panda on loan from China, gave birth to the first of twin cubs, but researchers at the San Diego Zoo were doubtful that the second cub would be born healthy with each passing hour.
"The chances of her giving birth to a second live cub are dwindling," said Pat Morris, the zoo's director of veterinary services, at least 24 hours after the initial delivery.
Bai Yun gave birth in a nest of shredded bamboo at 1:15 p.m. Tuesday, said Don Lindburg, head of the zoo's panda team. Bai Yun appeared to have contractions into Wednesday but there were no plans to intervene unless she showed signs of medical distress.
"The longer the birth interval, the less likely that the second fetus will be born alive," Lindburg said. "We are simply letting nature take its course."
Research has shown female pandas who are pregnant with twins deliver the second cub anytime between 12 minutes and 12 hours after giving birth to the first, according to the zoo's Web site. Panda cubs can weigh from 4 to 6 ounces at birth.
Typically, a mother will chose to care for only one cub, officials said.
"It takes a lot of effort and a lot of intensity. That's one of the obvious reasons why twinning is not successful in this species," Morris said.
Bai Yun's newborn was about 4 inches long and covered with white fuzz. It made squawking sounds about every half hour to indicate it wanted to be fed - a positive sign, researchers said.
Normally pandas begin to develop their distinctive black spots after two weeks, and open their eyes after two weeks to four weeks, Morris said.
"We're really pleased that we have one," Lindburg said. "It would have been a really nice treat for the community if someday down the road they could have seen a couple of youngsters playing here. I think it could probably still happen, but we really aren't that hopeful that this will turn out that way now."
Bai Yun gave birth to a cub in 1999 after she was artificially inseminated. Her offspring, Hua Mei, is the first U.S.-born panda to survive into adolescence.
Giant pandas are an endangered species. Fewer than 1,000 exist in the wild, all in China, and about 150 live in captivity, including panda pairs at zoos in Washington, Atlanta, Tennessee, and Mexico City.
(Agencies)