Figo caps another great year with World award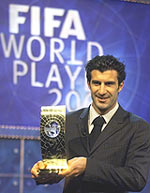 Portugal's Luis Figo poses with the FIFA World Player 2001 award during the FIFA World Player of the Year awards in Zurich December 17, 2001. [Reuters]
Real Madrid's Luis Figo added yet another award to the growing list of accolades he has accumulated in recent seasons, after FIFA named him as World Player of the Year for 2001 on Monday.

"I'm delighted to receive this trophy," the Portuguese international was quoted as saying on Real Madrid's website. "I'd like to thank my team mates for their support and help in winning it and I dedicate the award to them, to my family and to my friends, above all to my wife and daughter."
The 29-year-old, who was named European Player of the Year last December, has proved beyond all doubt that he is one of the best forwards in the history of the game. He has pace, a deadly shot and the strength and stamina of an athlete.

The Portuguese star is hot tempered and argumentative, and gets more than his fair share of bookings. But it is this competitive spirit that makes him such a firm favourite with the fans. However, it was not for his undoubted footballing talent that Figo stole the headlines last summer, but for his then world record million defection from Barcelona to arch-rivals Real Madrid.


Portugal's Luis Figo (C) poses with the FIFA World Player 2001 award during the FIFA World Player of the Year awards in Zurich December 17, 2001. England's David Beckham (L) was second and Spain's Raul Gonzalez (R) was third. [Reuters]
The multi-talented forward has now become a symbol of the new generation of the sports global superstars whose own interests supersede those of the club they play for.

Figo provided numerous goal assists in Real's procession to last season's league title and notched nine of his own during the course of his 34 league appearances. This term the Portuguese star has had a more low profile start to the campaign.

The arrival of Zinedine Zidane has seen the spotlight move to Real's new world record signing and Figo has not shone as brightly as his French team mate.

Possibly as a result of his experiences last season Figo appears a more aloof and serious figure than ever, but there is little doubt that he still has a fierce desire to win.

Helping guide Portugal to World Cup qualification was his first success of the season and it would be surprising if he did not finish the campaign with more garlands to add to his already impressive collection.
Accolade:盛赞,荣誉
FIFA:国际足联



trophy:奖品,奖杯


Real Madrid:皇家马德里队,西班牙甲级足球队之一



beyond all doubt:毋庸置疑
He has pace:具备速度
deadly shot:防不胜防的射门得分
stamina:体力

booking:这里指因犯规而得红黄牌
defection:原意为变节,这里指转会
arch-rival:主要竞争对手,劲敌



supersede:取代






goal assists:助攻
notch:射门得分
low profile:低姿态;低调(或克制)的姿态














garland:(作为胜利和荣誉的象征)花环,花冠