Former Microsoft China chief gets new job
( 2004-02-05 14:02) (eastday.com)
China's largest online game operator appointed its new eight-member management team yesterday in a move to improve its core competence while it waits to get listed on Nasdaq.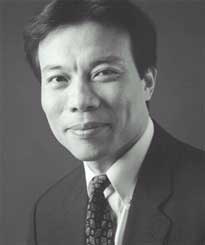 Tang Jun, former president of Microsoft China. [file/newsphoto]

Among Shanghai Shanda Networking Development Corp's new senior executives are Tang Jun, the former president of Microsoft China, and Zhu Weilian, the founder of rongshuxia.com Website.

Tang was appointed as Shanda's president yesterday after the recent resignation of Chen Tianqiao, Shanda's founder and chairman, as president.

"Tang's background as a professional manager will improve the company's corporate governance in the eyes of overseas investors. That will help Shanda's initial public offering in the Nasdaq market later this year," said Sun Weijia, an analyst at Shanghai-based Analysys Consulting Co Ltd.

"Tang will use his management experience from multinational companies to strengthen Shanda's competitiveness in corporate management and technology research and development," Chen said in a statement.

Tang, who studied in Japan and the United States, was appointed as Microsoft China's president last March. Under his management, Microsoft China's revenue posted the highest jump among 82 offices of the United States-based software giant in its last fiscal year ended in June.

Huang Huaguo, Nasdaq's representative for the China region, said the overseas investors are going to welcome Shanda's change in management.

"Most Nasdaq-listed companies' board of directors hire professional managers outside to manage the companies, aiming to avoid corporate fraud," Huang said.

Zhu Weilian was appointed as the vice president for public relations and Chen Danian, brother of Chen, is the vice president for game operations. Li Shujun, another vice president, will be responsible for Shanda's overseas investment business.

Sun also said Shanda aims to purchase some overseas game developers in future.

Shanda is widely expected to raise about US$300 million when it launches its IPO on Nasdaq later this year.

Currently, the company runs the South Korean-developed online role playing game "Legend of MIR II" which millions of Chinese players are hooked on. The company has also developed its own game named "The World of Legend", which made its debut in China in August.