Sinopec signs evaluation deal for three oil blocks in Gabon
( 2004-02-04 09:20) (Agencies)
China's state-run oil company Sinopec signed a technical evaluation deal with the Gabonese oil ministry for three onshore oilfields.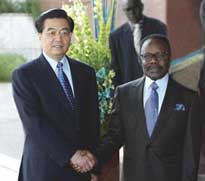 Chinese President Hu Jintao, left, shakes hands with Gabonese President Omar Bongo in Libreville, capital of Gabon, Monday, Feb. 2, 2004. Chinese President Hu Jintao arrived here Sunday afternoon for a three-day state visit. [Xinhua]

Under the deal, Sinopec will evaluate the potential of the three blocks before taking a decision on whether to take up an exploration and production-sharing contract, Gabon's Energy and Oil Minister Richard Onouviet said.

The evaluation deal was aimed at "facilitating the investment Sinopec would have to make (under a production-sharing contract) because ... prospecting for oil on land in Gabon is very difficult and costly because we are a heavily forested country," said Onouviet.

One of the three blocks, LT2000, is located some 200 kilometers (120 miles) southeast of Gabon's economic hub, Port Gentil, which lies south of the capital, Libreville, on the Atlantic coast.

The other two -- DR200 and GT2000 -- are around 100 kilometers (60 miles) northeast of Port Gentil, according to the oil ministry.

Small deposits of oil are already in production in the zones housing the three blocks and "we hope that Sinopec will discover a large deposit that is lying dormant under Gabonese soil," said Onouviet.

The deal was signed as Chinese President Hu Jintao ended a visit to Gabon, his only sub-Saharan stop on a tour of Africa that is aimed at boosting economic ties and fuelling development on the continent.

During his visit, Hu signed a series of bilateral trade accords with his Gabonese counterpart Omar Bongo, including a "memorandum of agreement aimed at showing the parties' desire to develop exploration, exploitation, refining and export activities of oil products."

Runaway economic growth in China was responsible for a third of the world's growth in oil demand last year.

To meet soaring Chinese demand, oil imports shot up 30 per cent, about half from the Middle East and the rest from all over the globe, including Africa, southeast Asia, Russia, Kazakhstan and South America.

In Gabon, meanwhile, recent declines in oil production have led the government, headed by Bongo since 1967, to encourage further exploration, and concern over a long-term decline in proven oil reserves has fueled development of the non-oil sector.

"Let's hope that tomorrow, in a year's time, we will have reassuring news that will allow our country to continue its oil adventure," said Onouviet.