Nuclear black market is small, covert
( 2004-02-03 09:29) (Agencies)
The nuclear black market that supplied Iran, Libya and the Democratic People's Republic of Korea (DPRK) is small, tight-knit and appears to have been badly hurt by the exposure of its reputed head, the father of Pakistan's nuclear program, diplomats and weapons experts told The Associated Press.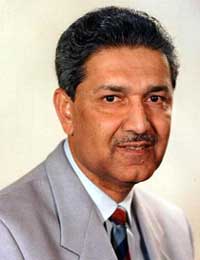 Abdul Qadeer Khan, founder of Pakistan's nuclear program, is seen in Islamabad in this July 2002 photo. Khan has admitted he transferred nuclear technology to Iran, Libya and DPRK, a Pakistani government official said, Feb. 2, 2004. [AP]

They describe the network that circumvented international controls to sell blueprints, hardware and know-how to countries running covert nuclear programs as involving people closely dependent on one another.

Abdul Qadeer Khan, who founded Pakistan's nuclear program, is emerging as the head of the ring believed to have been the main supplier through middlemen over three continents. A Pakistani government official revealed Monday that Khan has acknowledged in a written statement transferring nuclear technology to Iran, Libya and DPRK.

The sales, during the late 1980s and in the early and mid-1990s, were motivated by "personal greed and ambition," the official said, speaking on condition of anonymity. The official added that the black market dealings were not authorized by the Pakistani government.

European diplomats also said it appeared unlikely President Pervez Musharraf sanctioned the deals. But with Khan close to previous governments, senior civilian and military officials before Musharraf's takeover in 1999 likely knew of some of the dealings, they said, speaking on condition of anonymity in interviews Monday and this past week.

They described Khan as the head of an operation likely involved in supplying both DPRK and Iran with uranium enrichment technology and hardware in the late 1980s and early 1990s. Libya was also a customer, receiving an array of nuclear-related equipment and know-how that included blueprints of a nuclear bomb handed over to U.S. and British intelligence officials late last month, they said.

Middlemen responsible for meshing supply and demand were located in European capitals, Asia and the Middle east, they said, typically working with Iranian, Libyan and DPRK's diplomats stationed abroad.

These would identify their country's needs and the intermediaries would then procure the orders, often ordering sensitive parts from manufacturers unaware of the end destination or purpose of what they were selling, they said. Most of those companies, were in Germany, Austria and Switzerland and other West European countries with the technological expertise to make finely machined centrifuge parts and other components.

Hundreds of millions of dollars changed hands over the past 15 years, in deals as easy to hide as a floppy disc storing sensitive drawings or as bulky as thousands of centrifuge parts for nuclear enrichment, a key part of building a weapons, the diplomats said.

A key beneficiary appears to be Khan, whose salary as a civil servant cannot account for what Pakistani newspapers say are far-flung real estate holdings and other assets worth millions of dollars.

Khan, who hasn't spoken publicly about the charges, but has been prevented from leaving Pakistan, has denied during interrogations with investigators that he made the transfers for personal gain.

Pakistani authorities began investigating Khan and key associates on information from the Vienna-based International Atomic Energy Agency that some Pakistani nuclear scientists helped Iran and Libya get centrifuges for uranium enrichment.

Libyan leader Moammar Gadhafi revealed ¡ª and renounced ¡ª his weapons and programs of mass destruction in December. Iran continues to maintain it has no nuclear weapons ambitions, but IAEA officials said Tehran has cooperated in revealing the sources of its centrifuges.

U.S. officials also suspect Pakistan bartered nuclear secrets in exchange for DPRK's missile technology, a charge Pakistan denies. American officials believe DPRK already has one or two nuclear bombs and could make several more within months. DPRK has never confirmed or denied having atomic weapons.

While he has not been linked to the nuclear network headed by Khan, the case of Asher Karni, an Israeli businessman awaiting trial in the United States, offers a window on how those suspected of nuclear smuggling cover their tracks.

Court records allege Karni used a series of front companies and misleading shipping documents to buy detonation devices whose possible uses include setting off nuclear weapons from a Massachusetts company, then had them sent through New Jersey to South Africa and on to the United Arab Emirates and later to Pakistan.

A federal judge in Washington D.C. ruled last week Karni could be released while he awaits trial as long as he agreed to waive his immunity from extradition from Israel or South Africa, to pay a $100,000 bond and to be electronically monitored while he stays in Maryland.

The diplomats said thousands of components used for uranium enrichment and bound for Libya that were seized on a German ship in October had bogus papers masking their use, point of origin and end destination.

The ring supplying Iran, DPRK and Libya was small ¡ª probably no more than around a dozen major players who knew details of what was being sold to whom, said the diplomats. Many of them were probably dependent on Khan for his contacts, first as an employee of Urenco, the West European uranium enrichment consortium and then as the architect of the clandestine weapons program that publicly established Pakistan as a nuclear power in 1998.

The fact that he is now sidelined has, in combination with the world focus on interdiction and monitoring countries under suspicion, probably crippled the supply chain, the diplomats said.

David Albright, a former Iraq nuclear weapons inspector who now runs the Institute for Science and International Security, agreed. With Khan exposed, the ring that accounted for much of the three countries' illicit nuclear hardware and know-how is "now busted up," he said.

"There are still remnants, and that has to be watched, but this is a major victory for nonproliferation," he said from Washington.