Sharon stuns party, says Gaza settlements will go
( 2004-02-03 08:46) (Agencies)
Israeli Prime Minister Ariel Sharon stunned friends and foes on Monday by saying he planned to evacuate almost all the Jewish settlements in the Gaza Strip.
"I have given the order to plan for the evacuation of 17 settlements in the Gaza Strip," the right-wing prime minister told the Haaretz newspaper. "I am working on the assumption that in the future there will be no Jews in Gaza."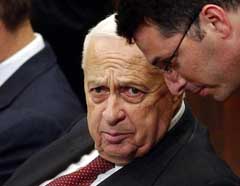 Israeli Prime Minister Ariel Sharon, left, talks to Gideon Saar, a Knesset, Israel's parliament, member during a Knesset session in Jerusalem Monday, Feb. 2, 2004. [AP]

Sharon, once considered the godfather of the settlement movement, later told his pro-settler Likud party the proposal he will take to Washington later this month would also call for the removal of a smaller number of Jewish enclaves in the West Bank.

He gave no time frame but Deputy Prime Minister Ehud Olmert said he expected the plan, part of a strategy of disengagement with the Palestinians, would be implemented by mid-year if peace talks hit a dead end.

It was the first time Sharon had revealed plans for such an extensive pullout from land Israel captured in the 1967 Middle East war. "I am in shock," Likud lawmaker Yehiel Hazan said.

White House spokesman Scott McClellan said it was "encouraging that Israel is considering bold steps to reduce tensions between Israelis and Palestinians."

But Palestinians and Israeli opposition legislators were skeptical.

"Usually when the Israeli government speaks about evacuation of settlements, it aims only at public relations...If Israel wants to leave Gaza...no Palestinian will stand in its way," Palestinian cabinet member Saeb Erekat told Reuters.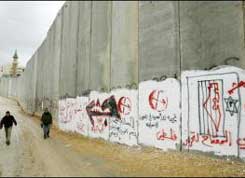 Palestinians walk next to a section of the controversial Israel's 'security' wall. [AFP/File]

In a sign of difficulties ahead, Sharon narrowly survived a no-confidence vote in parliament when members of his ruling Likud party and two pro-settlement coalition partners stormed out in protest at the Gaza plan, taking their votes with them.

SURGE OF VIOLENCE

A surge in violence over the past week has cast further doubt on the prospects of a U.S.-backed "road map" to peace.

Israeli troops killed four Palestinian militants in a battle in the Gaza Strip Monday. Security sources said a commander of the Hamas faction, behind a suicide bombing that killed 11 in Jerusalem last week, had died in an shootout in Bethlehem.

Despite the bloodshed, Palestinian Prime Minister Ahmed Qurie said preparations were under way for his first meeting with Sharon since he took office in November.

Shortly after Qurie spoke, Sharon's words appeared on the Haaretz Web site. His plan entails removal of all but two or three Jewish enclaves in the 360-sq-km (139-sq-mile) coastal strip, where over a million Palestinians live in poverty beside a few thousand settlers who control 21 per cent of the land.

Opinion polls show a large majority of Israelis willing to part with Gaza settlements. They have no strategic value, require a heavy military presence to protect them and have little of the biblical significance that draws Jews to settle in the West Bank, site of more than 120 enclaves.

Instead, many of Gaza's settlers are attracted by a quality of life built around tight-knit communities, flourishing agriculture and pristine beaches.

"The prime minister intends to go to Washington with an offer of removing large chunks of settlements in Gaza and a smaller chunk in (the West Bank)," Likud legislator Michael Eitan told reporters after Sharon addressed a party meeting.

In excerpts from the interview, Sharon said his plan "has to be done with American agreement and support."

"We are talking of a population of 7,500 people. It's not a simple matter. We are talking of thousands of square km (miles) of hothouses, factories and packing plants," he said.

"The first thing is to ask their agreement, to reach an agreement with the residents...it's not a quick matter, especially if it's done under fire," he added.

A Gaza settler spokesman called Sharon's comments "miserable" and vowed that the nationalist camp would work "to cut short Sharon's term as prime minister through legal means."